The UNX series is designed to meet the challenges of off-center holes with extreme depth-to-diameter ratios. These machines automatically drill deep holes in long, heavy workpieces without a loss of accuracy. And the UNX50 model is capable of executing both gundrilling and BTA deep hole drilling.
There are three motion profiles available to fit your needs: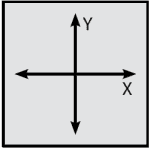 Cartesian positioning [C] maintains a stationary workpiece and moves the drilling headstock in the X and Y axis.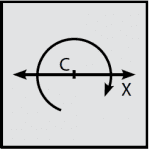 Polar positioning [P] rotates a cylindrical part on its axis, with an X-axis to position the drilling headstock distance from the center.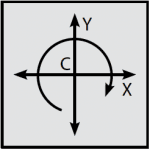 Cartesian and Polar positioning [CP] are combined with advanced motion control to achieve the highest accuracy in small diameter, extreme depth drilling.
Dimension
UNX20
UNX25
UNX40
UNX50
Tooling type
Gundrill
Gundrill
Gundrill
Gundrill/BTA
Drilling diameter max
20 mm
25 mm
40 mm
50 mm
Counterbore max
–
–
–
65 mm
Motion profile
Cartesian + Polar [CP]
Cartesian [C] or Polar [P]
Polar [P]
Polar [P]
Single stroke drilling depth
1,500 mm
1,500 mm [C]

2,000 mm [P]

3,000 mm [P]

1,500 mm

2,000 mm

3,000 mm

1,500 mm

2,000 mm

3,000 mm

Workpiece length
2,000 mm

3,000 mm

4,000 mm

6,000 mm

10,000 mm

2,000 mm

3,000 mm

4,000 mm

6,000 mm

10,000 mm

2,000 mm

3,000 mm

4,000 mm

6,000 mm

10,000 mm

2,000 mm

3,000 mm

4,000 mm

6,000 mm

10,000 mm
Dimension
UNX20
UNX25
UNX40
UNX50
Tooling type
Gundrill
Gundrill
Gundrill
Gundrill/BTA
Drilling diameter max
0.79 in
1.00 in
1.57 in
2.0 in
Counterbore max
–
–
–
2.6 in
Motion profile
Cartesian + Polar [CP]
Cartesian [C] or Polar [P]
Polar [P]
Polar [P]
Single stroke drilling depth
59 in
59 in

79 in

118 in

59 in

79 in

118 in

59 in

79 in

118 in

Workpiece length
79 in

118 in

158 in

236 in

394 in

79 in

118 in

158 in

236 in

394 in

79 in

118 in

158 in

236 in

394 in

79 in

118 in

158 in

236 in

394 in