Gundrilling and Deep hole drilling in precision components for Oil and Gas
The oil and gas industry has been part of UNISIG since we started building machines in 1981. We have earned our reputation for performance even when drilling the toughest materials on earth by listening to our customers.
UNISIG provides gundrilling, BTA drilling and trepanning machines to the major oilfield OEM's, and their suppliers, all around the world.
The materials that are used in the oil and gas industry are a laundry list of pain unless you have the right equipment. Tough, pre-hard alloy steel, "super alloys" with high-nickel content, and proprietary materials that don't machine like anything else are part of daily life for our customers.
UNISIG machines have the brute force to machine the toughest materials in Oil and Gas, but we also have the engineering and motion systems to main control of the process and achieve very close tolerances in these materials.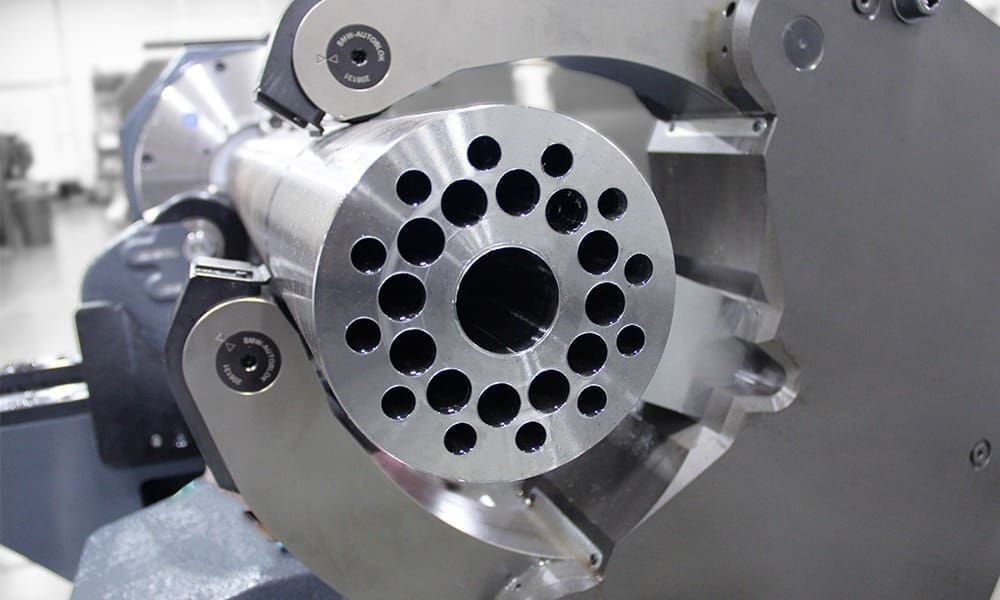 Workpieces in Oil and Gas
There is enormous variety in the precision components needed to support the Oil and Gas industry. Drill collars, liner hangers, stress joints, blowout preventers, pump joints, completion systems, measurement while drilling, fluid assembly ends, sucker rod, artificial lift, drill pipe and new designs coming as the industry innovates.
Many of these parts have deep holes that are not possible to produce on machining centers. UNISIG has machine models that drill holes with a depth to diameter ratio from 10:1 to over 400:1. Our largest machines drill holes over 40 feet (12 meters) deep.
On-center drilling and off-center drilling are common applications for gundrilling and BTA deep hole drilling. Our standard machines are designed around the needs of our oilfield customers.
Oil and Gas Component Deep Hole Drilling
All the Right Tools for Success
Gundrilling tools are used for small holes, from 0.06 to about 2 inches (1.5mm – 50mm). The coolant is introduced through the tool, and chips exhaust along a straight flute.
The BTA system tools (Boring and Trepanning Association) reverse the process, the coolant is fed around the outside of the tools and the chips exhaust through the drill tube. These tools work in applications below 1 inch (25 mm) all the way to over 20 inches (500mm) in diameter.
Drilling a hole from solid is the most common application. Counterboring and pull boring can be used to improve the bores. Bottom forming and internal machining with bottle bore tools are for deep hole machining and finishing workpieces.
Trepanning leaves a core in the center of the hole. It was initially developed for lower power equipment, but advanced indexable tools feed at rates that actually require more power and than solid drilling.
UNISIG machines are engineered to make the most of the tools, and our applications support helps our customers optimize their production.
UNISIG B-Series
Centerline Drilling Machines for Oil and Gas
UNISIG B-Series machines are popular models for drilling holes on the centerline of cylindrical workpieces. Special fixturing also allows for offset holes using the counter-rotation process. Models are available with drop beds to handle parts with large flanges or asymmetrical features.
These machines have a broad range of applications, from straightforward solid drilling, to complex internal profiling and skiving and roller burnishing. UNISIG also offers standard durable tooling packages to ensure compatibility and immediate productivity after installation.
UNISIG USK
CNC Gundrilling Machines for Oil and Gas
USK machines have a programmable machine table for positioning the workpiece in X and Y axes. A CNC control and high pressure coolant system make gundrilling very deep holes at programmable positions very simple for job shops and large OEM's.
The USK series has proven itself extremely accurate when drilling high-nickel and proprietary alloys. Models are avaialable for gundrilling holes up to 60 inches (1500 mm) deep.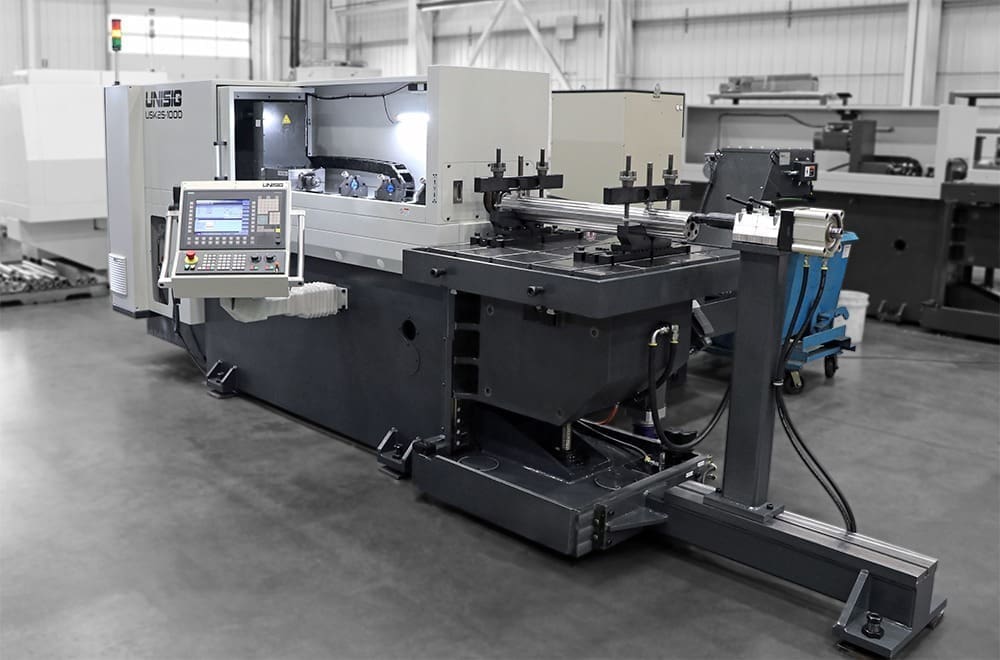 UNISIG UNX
Extreme Gundrilling for Oil and Gas
Our UNX machines gundrill the most extreme depth to diameter ratio holes in the world. For Example, if you need some 0.31″ dia x 10 feet (8mm x 3 m) deep gundrilled holes in a 32 ft (10 meter) long Inconel part, you need a machine that can drill a 400:1 ratio hole.
Our standard machines were developed around applications like these. Certain models are available with BTA and Gundrilling tools to further expand the application range.
UNISIG USC, USC-M
Drilling and Machining for Oil and Gas
Drilling large holes in fracking pump fluid ends are effortless with high-power UNISIG USC drilling machines. These machines share spindle and coolant system designs with our B-series machines, which remove metal like no machining center can.
Very complex compound angle holes, requiring advanced planning and simulation along with CNC machining are everyday tasks for the UNISIG USC-M series machines. Full enclosures, automatic tool changers, tool and workpiece probing and 5-axis positioning change what is possible for the most difficult parts.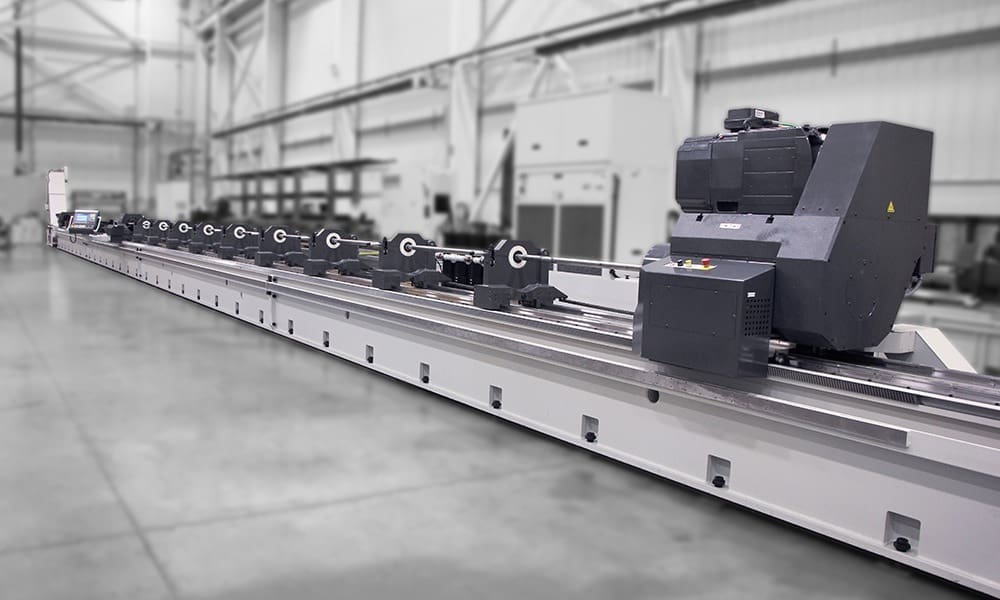 UNISIG S-Series
Skiving and Roller Burnishing for Oil and Gas
The productivity equation has changed when manufacturing sucker rods and artificial lift components. The UNISIG S-Series machines are proven in parts longer than 42 feet (13 meters) with astonishing productivity gains over honing in these applications.
UNISIG provides the machine, durable tooling, and application support to modernize your factory with the latest technology in bore production.