Nobody builds rifle barrel production equipment like UNISIG
Before UNISIG, fully automated barrel production was only possible for the largest firearm OEMs. Now, UNISIG has opened the door for small to mid-sized as well as very large manufacturers by developing scalable barrel production cells, designed for productivity and reliability.
Unmatched Industry Experience
Our 40 years of experience building high volume production gundrilling
and machining systems is unmatched in the industry.
UNISIG holds a unique position as the leader in firearms equipment
manufacturing and automation.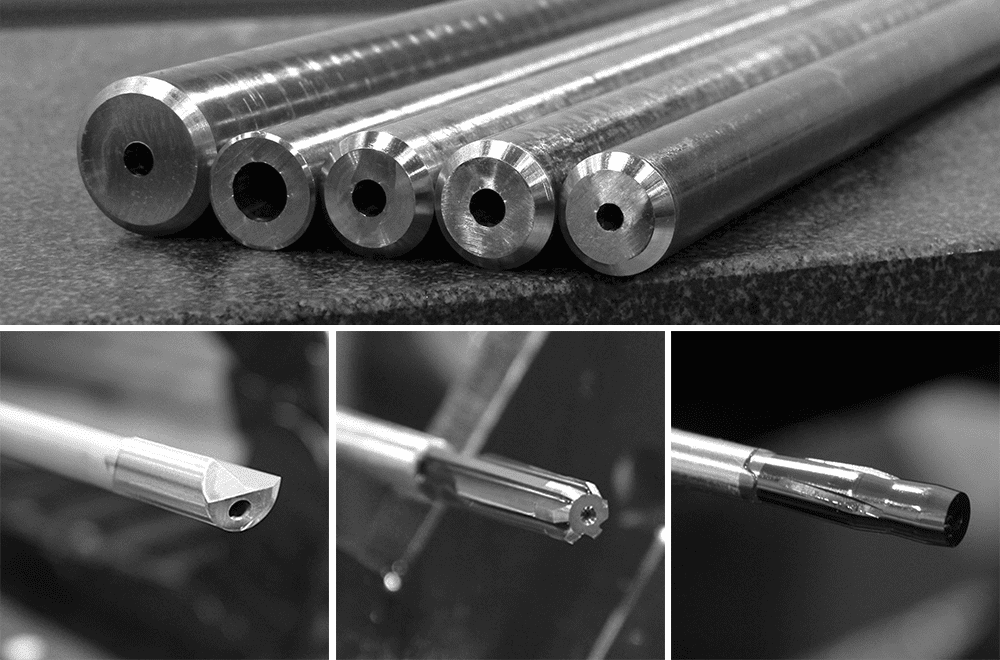 UNISIG Solutions for the Firearms Industry
Exceptional quality from modern technology.
We offer individual gundrilling, reaming, and rifling machines used to make rifle and pistol barrels of unsurpassed precision, with the reliability expected from modern manufacturing technology.
Modernizing barrel manufacturing.
Our machines are designed and built for high volume production and maximizing the potential of existing tools. We integrate automation to improve efficiency updating the ideal environment for productive, cost effective manufacturing of barrel blanks.
Versatile and reliable full-automation.
Fully-automated barrel production is no longer only possible for the largest firearms OEMs. UNISIG has developed barrel production cells systemized for reliability that provide scalable solutions for small, mid-sized, and very large manufacturers.
The complete package in productivity.
UNISIG provides training, process development, and long-term support to give first-time barrel producers everything they need to be productive upon install.
Fully-Automated Barrel Production Cells
R-Cell 2-2-1 Full-Auto
Continuous production, automatic rifling
UNE 2-Spindle Gundrilling machine
UNR 2-Spindle Reaming machine
R-2A Rifling machine
6-Axis Robot
UNISIG Cell Controller
R-Cell 4-2-2 Full-Auto
Continuous production, high volume
UNI 4-Spindle Gundrilling machine
UNR 2-Spindle Reaming machine
R-2A 2-Spindle Rifling machine
6-Axis Robot
UNISIG Cell Controller
Automated barrel production cells are systemized to scale with your operation
Production can grow to meet demand without increasing operator involvement
Bulk feeding system to keeps gundrilling machine continuously fed with bar stock
Robot services gundrilling, reaming, and rifling machines, no increase in floor footprint
Finished barrels are removed from discharge magazine by operator
Lights-out production is possible
Contact us to discuss your barrel production needs.
Semi-Automated Barrel Production Cells
R-Cell 2-2-1 Semi-Auto
Continuous production, manual rifling
UNE 2-Spindle Gundrilling machine
UNR 2-Spindle Reaming machine
R-2A Rifling machine
6-Axis Robot
UNISIG Cell Controller
Automation embedded in each machine is engineered to meet your needs
Design supports precision machining and tool monitoring to ensure reliability
Robot transfers raw parts from magazines through gundrilling and reaming processes
Operator rifles blanks in batches, moves parts in and out of cell, and manages tooling
Contact us to discuss your barrel production needs.
Manual Barrel Production Cells
R-Cell 2-1
Manual load, batch production
UNR 2-Spindle Reaming machine with optional gundrill conversion
R-2A Rifling machine
R-Cell 2-2-1
Manual load, continuous production
UNE 2-Spindle Gundrilling machine
UNR 2-Spindle Reaming machine
R-2A Rifling machine
Multiple machines in cell configuration serviced by one or more operators
Easily configure highly reliable production process
Prioritizes quick changeover time, and conservation of floor space
Configuration prepares you for future growth potential
Contact us to discuss your barrel production needs.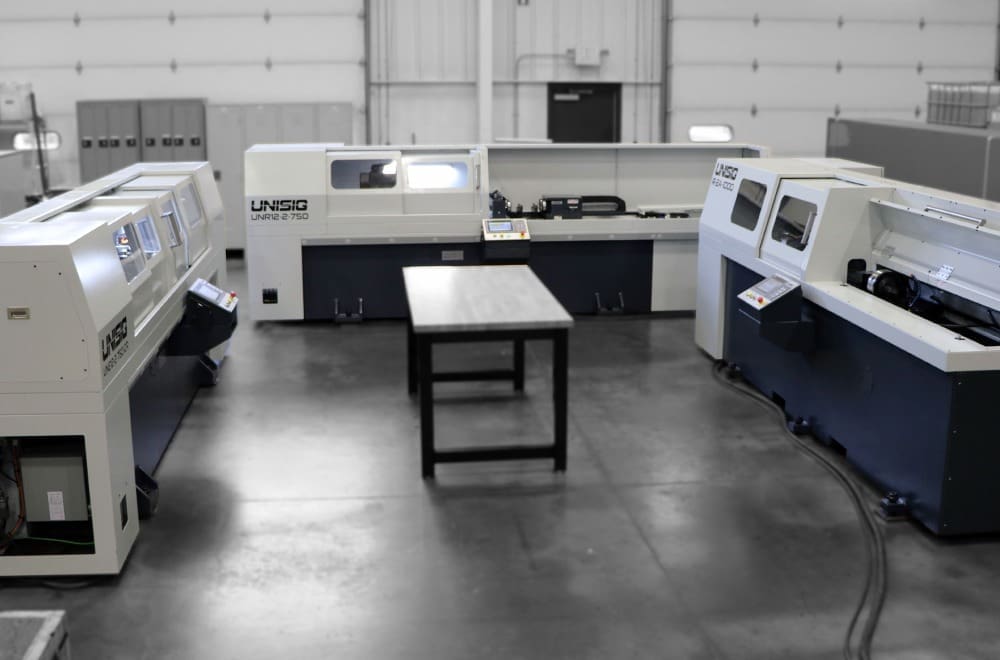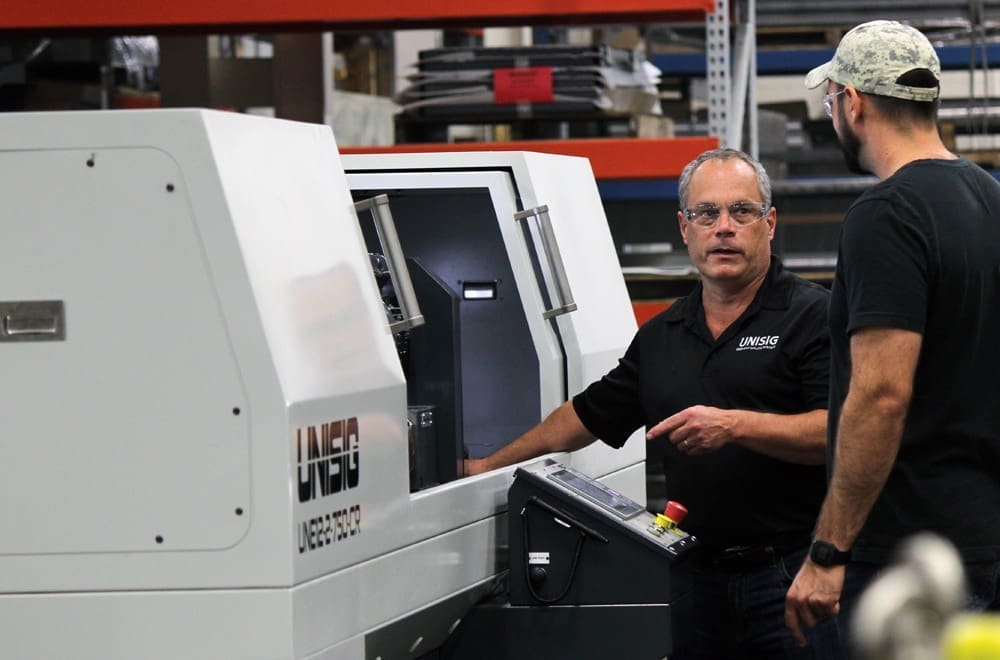 Process Collaboration
UNISIG works with you from project initiation to part completion in order to build your perfect barrel production operation.
Our process technicians stay with you through the entire development cycle ensuring the exact outcome to provide day one operation upon installation.
UNISIG provides startup assistance to customers entering barrel production by offering application engineering services, initial tooling selection, test machining for customer workpieces, and training on best practices for high productivity.
These services are quoted with the machines and can also include startup assistance and training on-site in addition to factory training.
Gundrilling Machines
Capable of drilling extremely straight holes in bar stock using the deep hole drilling process of gundrilling.
UNE12 SERIES & UNE20 SERIES  |  2-spindle
Counter-rotation of tool and workpiece for extreme concentricity
Servo driven work headstock precisely adjusts part length and clamp force
Programmable coolant system delivers optimum flow to the drill tip
Extremely accurate machine base, machined on all sides in a single set-up

UNI12 SERIES & UNI20 SERIES  |  4-spindle

Counter-rotation minimizes centerline drift and provides high concentricity
Programmable workpiece headstock position and clamping force
Automatic loading system, adjustable for workpiece length and diameter
Compact construction for CNC machining cell or larger integrated drilling system
UNE Series Gundrilling Machines  |  UNI Series Gundrilling Machines
Reaming Machines
Following the gundrilling process, a reaming tool follows the drilled hole, matching straightness, while achieving ideal surface finish and diameter tolerances.
UNR12 SERIES & UNR20 SERIES  |  2 -spindle
Optional gundrill conversion available on twin spindle machines
Convert machine between reaming and gundrilling mode with counter-rotation
Automatic tool return eliminates manual tool intervention

UNR12 SERIES & UNR20 SERIES  |  4-spindle

Workpiece conveyor system allows single-piece-flow and maximizes spindle uptime
Meet increased volume and reduce operation time with robot-ready options
Rifling Machines
Creates helical grooves, cut down the length of the drilled hole, maintaining extreme control of feed and twist rates, producing accurate and consistent rifling of barrels.
R SERIES Button Rifling  |  1 & 2-spindle
Manual workholding clamps workpiece concentrating it to the machine centerline
Automation ready for incorporating into an automated rifling cell

R25 SERIES Button & Cut Rifling  |  1-spindle
CNC controlled servo-rifling machines allow user to develop unique rifling profiles
Both button and cut rifling tooling systems provide power and control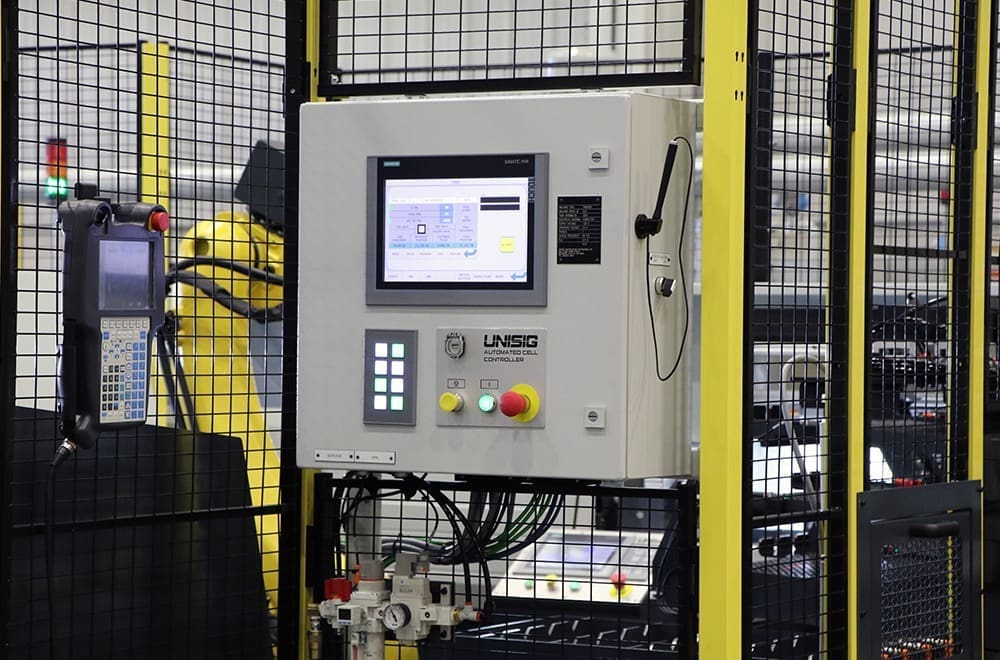 Automated Cell Controller
Robot-attended automated cells operate easily and keep running with the UNISIG cell controller.
Intuitive menu helps navigate machine setup, automation recovery, and robot troubleshooting.
Integrated controller shows all machine interfaces and robot status from a single panel.
Simplified, visual operator training utilizes user-friendly interface.
Machine Connectivity
Ethernet Communications
MT Connect Industry 4.0
Remote Diagnostics
Configure to Order Production Cells
Special Automation
UNISIG's manufacturing technology can be configured with special automation, including custom-engineered feeders and loaders, optimized for production, application, budget, and facility requirements.
Shotgun Barrels
UNISIG Multi-spindle gundrilling and reaming machines can produce exceptionally high-quality shotgun barrel blanks. Automation and modern manufacturing technology increase production rates and lower costs compared to use of legacy equipment.
Receiver Manufacturing
High-performance indexable tools and powerful drilling spindles designed to maximize penetration rates reset receiver manufacturing expectations. Use multi-spindle machines with automatic loading systems to modernize receiver production in the industry.
Pistol Barrel Blank Production
Pistol barrel production starting with drilled, reamed, and rifled blanks creates automation opportunities for processing parts to a finished state with standard CNC turning and milling machines.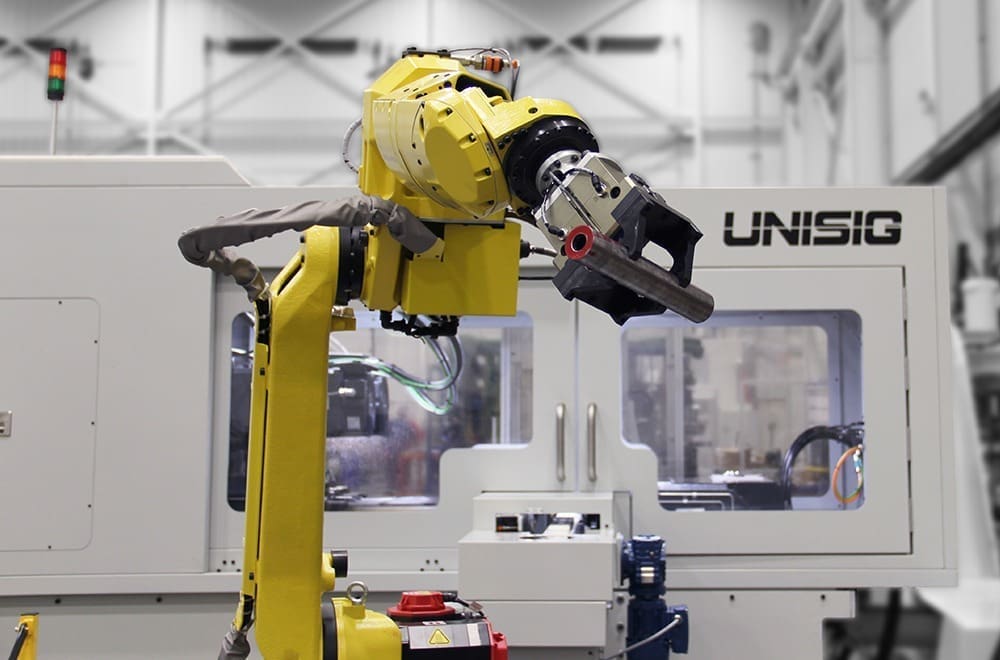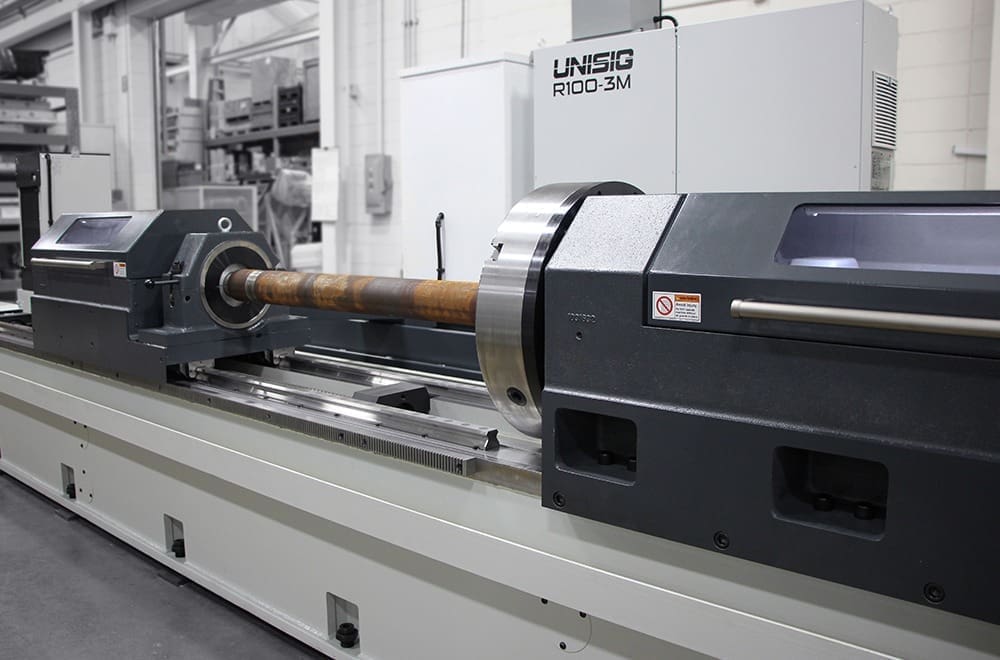 Medium and Large Caliber Barrel Solutions
For medium caliber solutions, UNISIG uses a UNI series counter-rotating drilling machine combined with a R25 or R50 rifling machine.
For large caliber solutions we use UNISIG B-Series deep hole drilling machines for drilling and bore finishing and a R100 or R200 CNC rifling machine.
With our experience and UNISIG standardized machines we can produce rifled barrels over 155 mm caliber and at lengths of over 30 ft.
Contact us to discuss your large-scale defense projects.
Additional Firearms Industry Resources