Automated high-precision gundrilling for the medical industry.
Whether you face small diameters, tight tolerances or thin walls, drilling the extreme is difficult without the right machines, tools and process. The automation-ready UNISIG UNE6 series machines make it possible to produce high-precision surgical instruments productively and reliably.
UNISIG understands your unique challenges
UNISIG small-diameter gundrilling machines provide the precision to achieve tight tolerances for instruments and implants.
Hole diameters from 0.8 mm-6 mm (0.03 – 0.25 in)
Depth-to-diameter ratios from 20:1 to more than 100:1
Hole straightness with concentricity to external diameter features
Complex features such as stepped holes
Thin-walled workpieces and difficult materials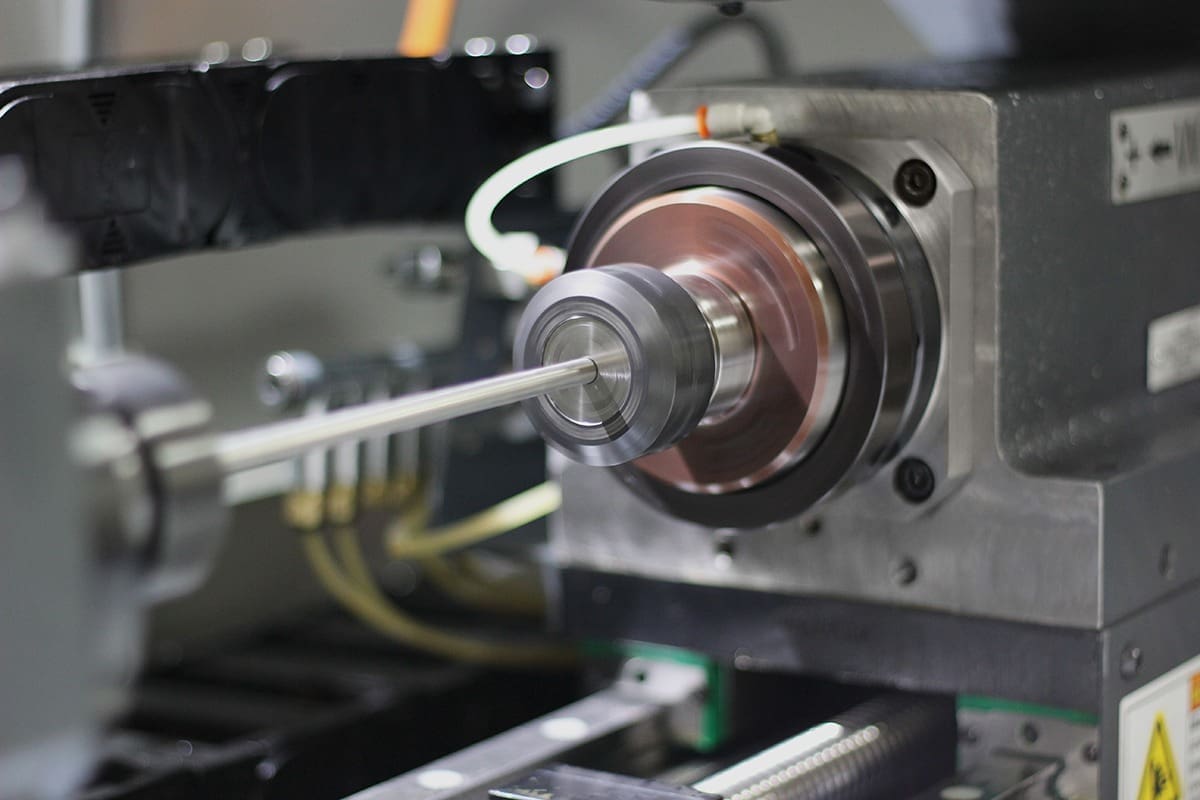 UNISIG Solutions for the Medical Industry
Simplified Solutions for Surgical Tooling
Manufacturers of surgical instruments can rely on UNISIG's decades of experience collaborating to solve your complex problems and provide the confidence to use your newly installed system to its fullest capabilities.
Gundrill with Accuracy and Repeatability
Achieve tight tolerances every time with our precision-aligned machines, workholding specialized for medical instruments, and intelligent machine controls.
Bring Gundrilling In-house
Eliminate variables and lost time from outside sources and improve throughput by incorporating a UNE6 machine into your Swiss turning cells.
Expand Capabilities and Automate Gundrilling
Flexible workholding configurations with UNISIG's lantern chuck and robotic integration provide the ultimate in manufacturing automation for medical gundrilling
UNE6 series gundrilling machines
Designed specifically for the challenges and dimensions faced by medical instrument manufacturers, the UNE6 series machines can accurately, productively and reliably gundrill medical components.
Technology for high accuracy, small diameter drilling
Counter-rotating tool and workpiece
Tool life monitoring and broken tool detection
Exceptional process control
Intuitive smart control interface with program storage
These technologies working together is what allows UNISIG to offer robotic automation to enable lights out gundrilling of complex surgical instruments.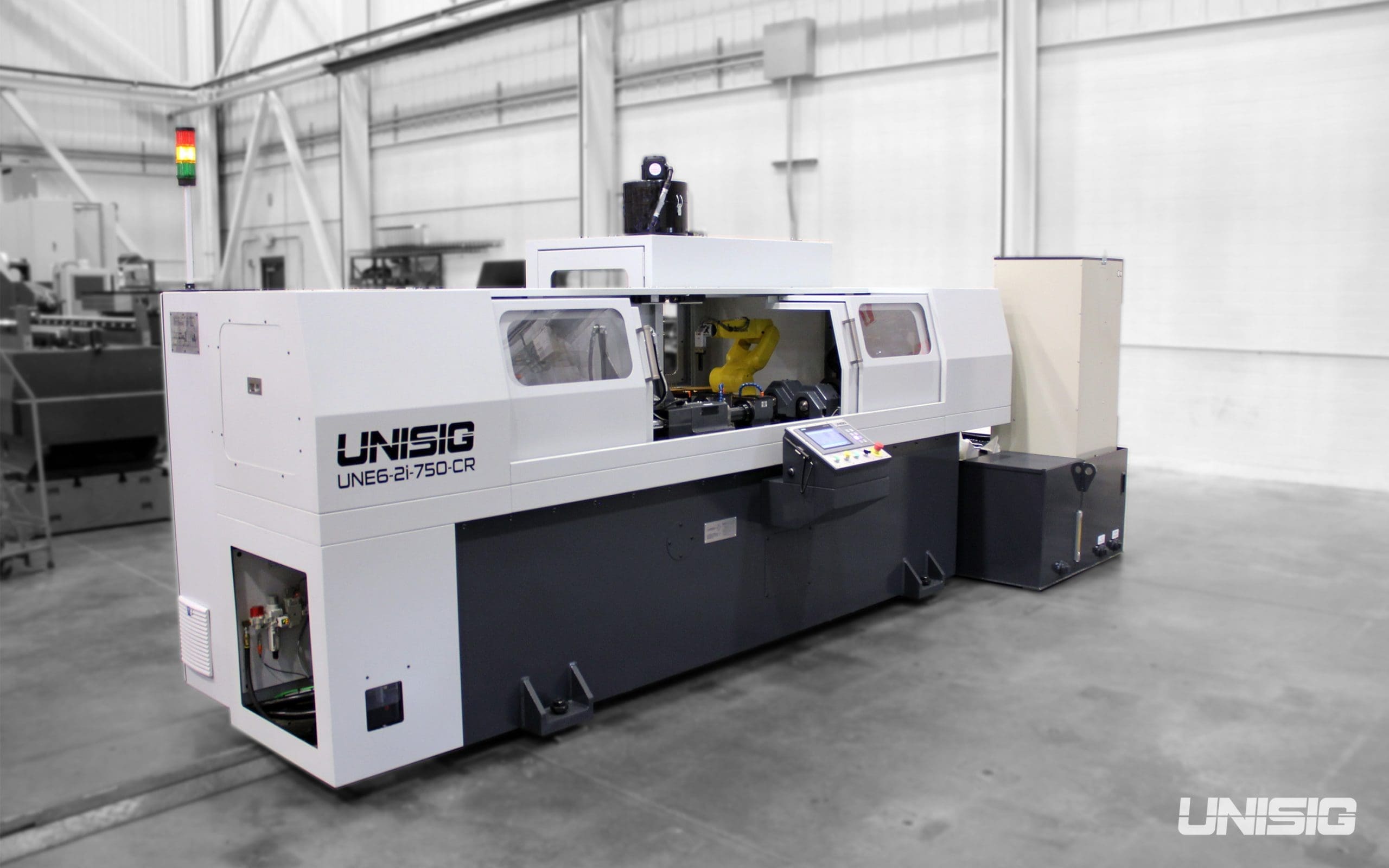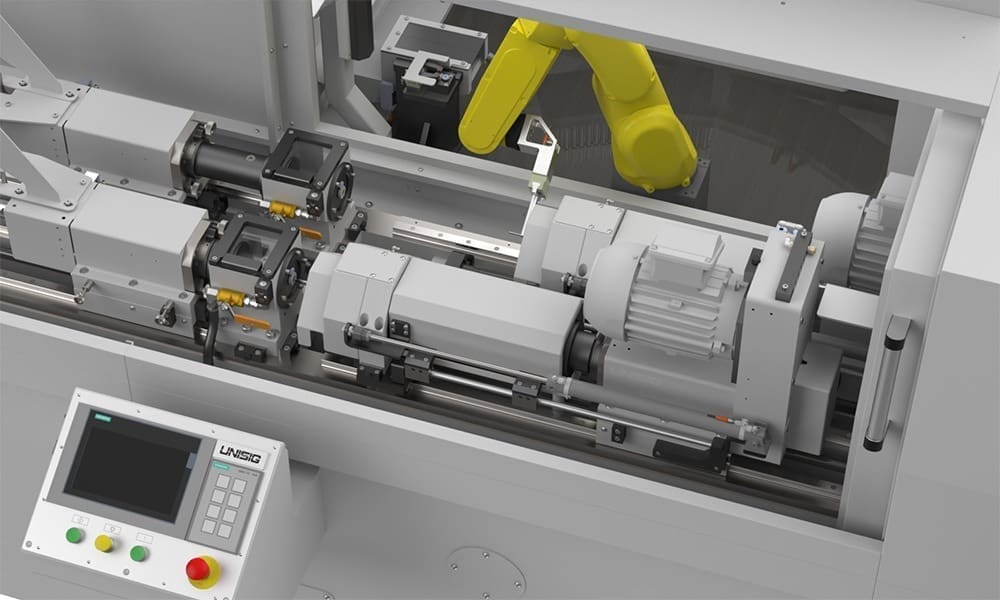 Outstanding Performance
These machines are capable of producing holes in diameters from 0.8 – 6.0 mm [0.03 – 0.24 in] with depth to diameter ratios of over 100:1, even in challenging medical grade materials.
Features for high-performance small diameter gundrilling
24,000 rpm Integral motor spindles
28,000 rpm total drilling speed with counter-rotation
3,000 psi (207 bar) Flow-based coolant systems
Extremely accurate geometric machine alignment
UNE6-750-CR
Single-spindle gundrilling machine
with counter-rotation
The UNE6-750-CR single spindle gundrilling machine offers everything needed to gundrill the most difficult medical workpieces in any shop environment.
Geared towards precision instrumentation work, this machine utilizes a counter-rotating workpiece headstock to achieve extremely high concentricity with a wide range of depth-to-diameter ratios.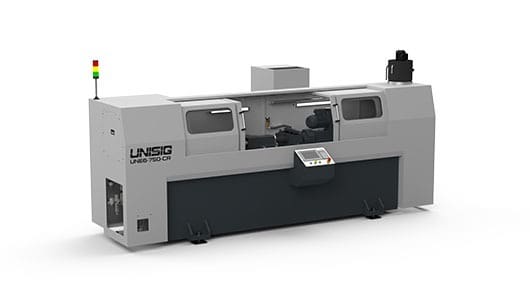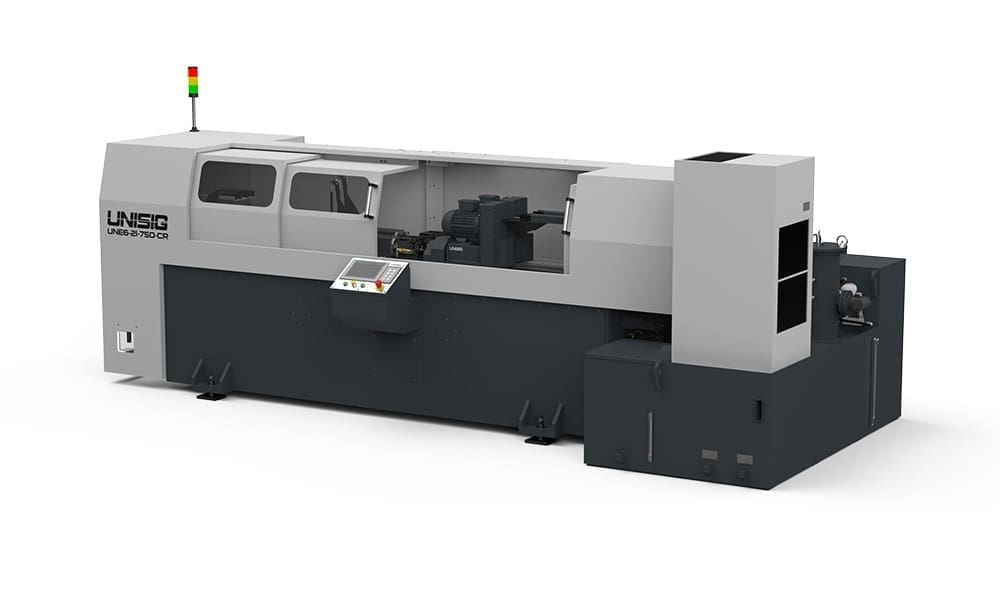 UNE6-2i-750-CR
Independent dual-spindle Gundrilling Machine
operated from single side
The most capable twin-spindle machine in the industry, the UNE6-2i-750-CR is the solution for complex, small-diameter medical instrument gundrilling. Sequential drilling operations common in surgical instruments are completed on one machine.
Fully independent dual spindle operation is accessible from a single side of the machine making the ideal one-piece flow possible when manually loaded.
UNE6-2i-750-CR with Automation
Independent dual-spindle gundrilling machine
with robotic workpiece automation
The UNE6-2i-750-CR with robotics makes gundrilling difficult, extremely precise surgical instruments for the medical industry possible and automatic. The process reliability of this machine opens the door to fully-automated production of these workpieces allowing lights-out gundrilling of the most complex components
Embedded robotic automation services both spindles and transfers workpieces between them. Interchangeable workpiece tray systems fit different workpiece types and are compatible with irregular OD Swiss-turned blanks.  Rear mounted automation allows setup and operation from the front of the machine without interference from the automation.
Additional Medical Industry Resources