Core Competency – CNC Machining
Some machine builders outsource many of their precision components. Productive CNC machining is not easy, productive machining of ultra-accurate workpieces is even harder.
At UNISIG, we believe making our own parts as a core competency is absolutely necessary to maintain our leadership position as a machine tool builder.
Not only are the parts we make superior to our competition, the constant interaction between engineering and machining professionals improves our understanding on how to design and build our products.
CNC Machining – How we do it better
Not by accident. We do it by intent. We have invested tens of millions of dollars in our machine shop, manufacturing technology and automation.
Most importantly we have invested in our people through training and developing our best practices so we can rightly claim to be some of the best machinists and programmers in the business.
Our mindset is automated machining, whether we are making a hundred spindle shafts or one critical part with a hundred hours of CNC machine time. We machine using the state of the art, and we drive our technology and machines.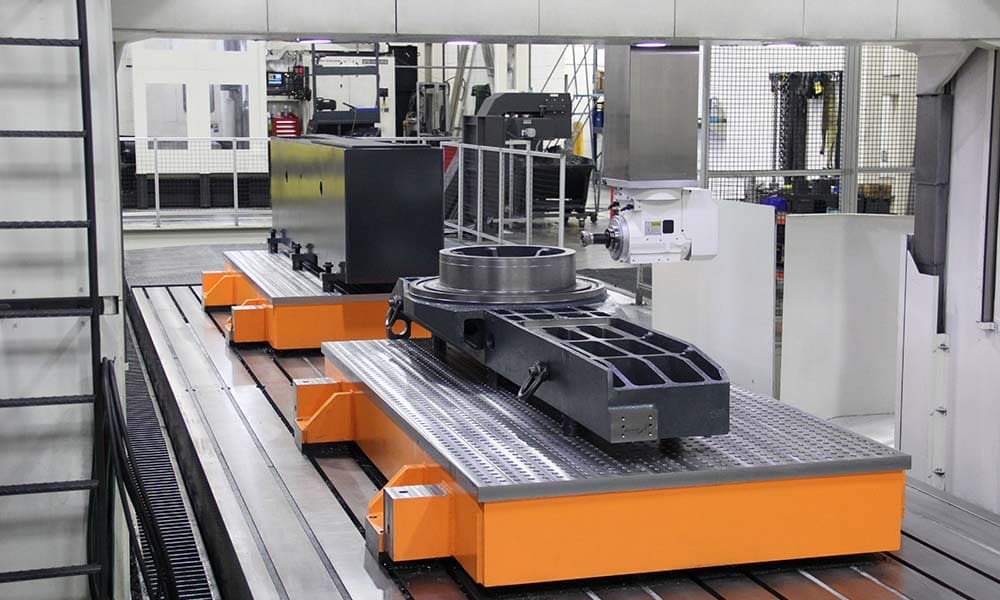 Large Part Machining
Machine bases, columns, large structures, precision carriergroups – these are the parts that nobody makes better than UNISIG.
We can machine parts that weigh up to 50 tons on 5-sides in a single setup. Our largest double column machining center has a machining envelope of 3.5 x 10.2 x 2.2 m [138 x 402 x 87 inches] and is equipped with an automatic head changer, 180 position tool changer, workpiece probing and tool setting.
All of our large capacity CNC machines are installed on an engineered foundation for very high stability and to maintain accuracy when heavy parts are put on the machines.
Our machine building group at UNISIG provides periodic laser alignment and calibration services for our machines, which builds trust in them as we run lights out at night.
Horizontal Machining
UNISIG produces precision CNC machine tools and automated systems. At the heart of the high-value equipment that we build are geometrically critical spindle housings, carriages, machine frames and slide units.
We use high accuracy, twin-pallet machining centers with exceptionally high installation accuracy. All of the machines are equipped with large tool changers, tool and workpiece probing, high-pressure coolant systems and specialized chip removal and coolant filtration systems.
Nobody likes to wait, and our customers won't pay us to. We have 630 mm, 1,000 mm and 1,250 mm pallet machines in our shop. In addition to being very accurate, all of the machines have very fast rapid rates in the 42-50 m/min [1650 – 2000 IPM ] range.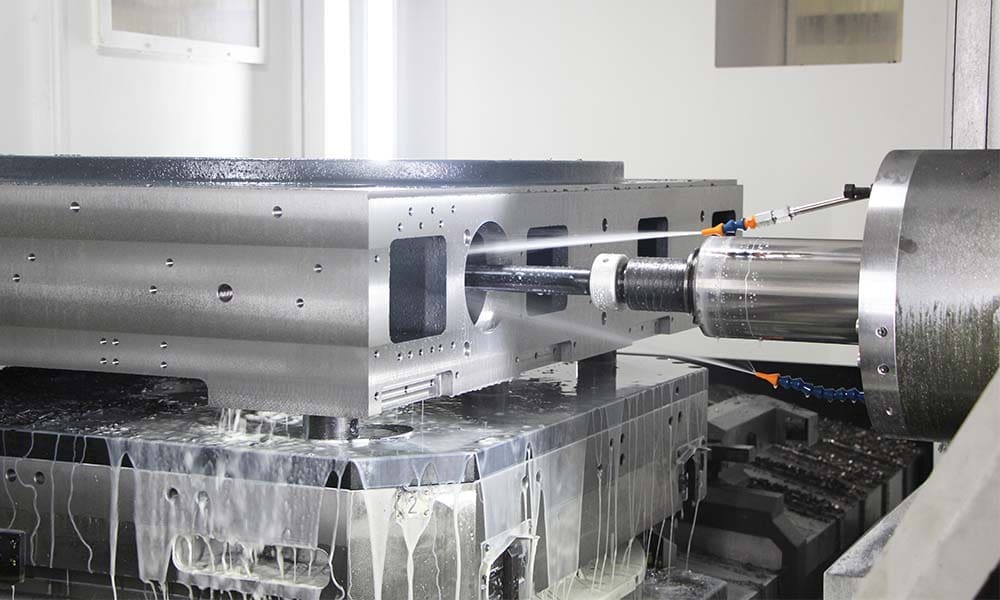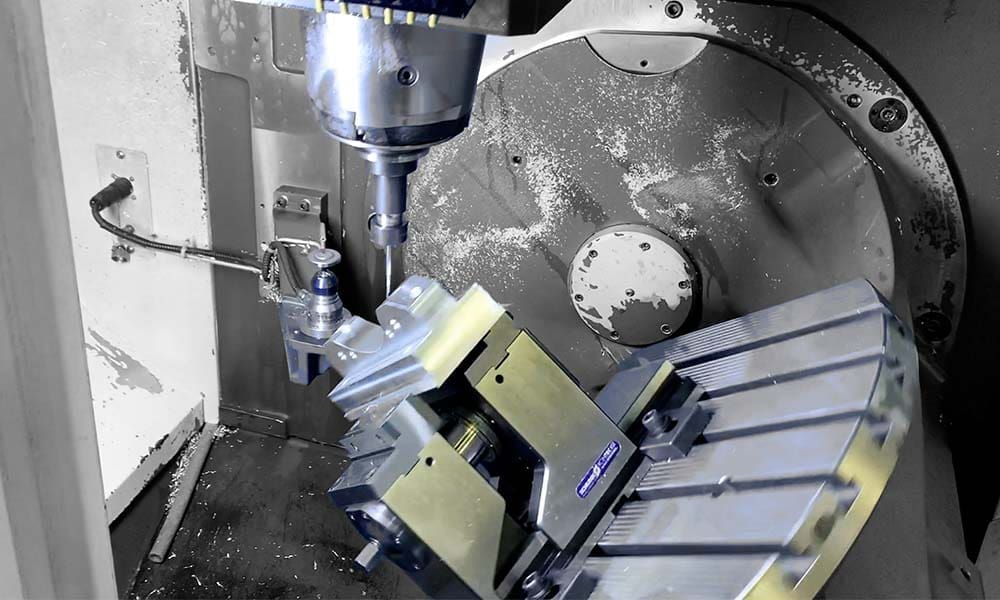 5-Axis Milling
Our parts trend towards complex and might normally require a lot of setups to make. We run 5-axis milling machines to eliminate manual intervention that stop the machines from running automatically.
Not only does machining a part with less setups save time, it also increases accuracy and allows the most tedious aspects of machining and post-machining deburring to be handled by the machine.
Our 5-axis milling capability for small parts erases days from the production of fixtures and tooling. Glass scales and rotary encoders allow us to interpolate high accuracy features rather than reaming and boring in many cases.
CNC Turning and Mill/Turn Multi-task Machining
UNISIG machines have a lot of precision rotating spindles, power transmission shafts and tooling components.  Some of these parts have milled drive features, angled holes for fluid passage and pockets for instrumentation.
Our CNC lathes start with forgings or alloy bar and remove a lot of metal, very fast. Then we move to fine machining of important features on the parts – in some cases after heat treating using hard turning strategies.
Moving parts between a CNC Lathe and a CNC Mill takes time and reduces the opportunity to run the machines automatically, so UNISIG uses multi-tasking Mill/Turn equipment with 5-axis capabilities to make our most complex components.
5-Axis milling/turning also improves accuracy since the parts are fully machined with fewer setups. We can also use the advanced motion control for deburring cycles to eliminate hand work and make the parts superior in quality.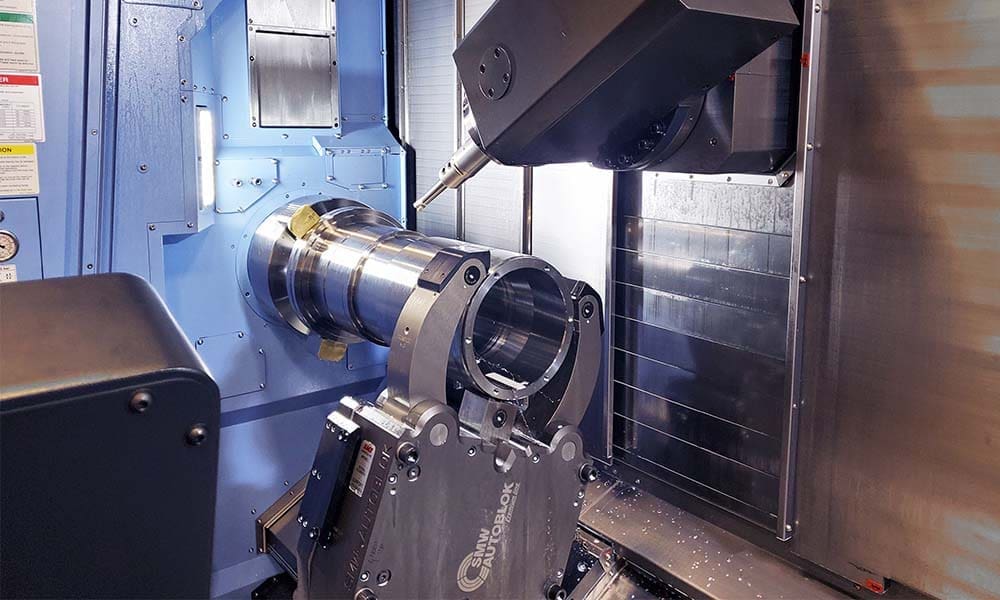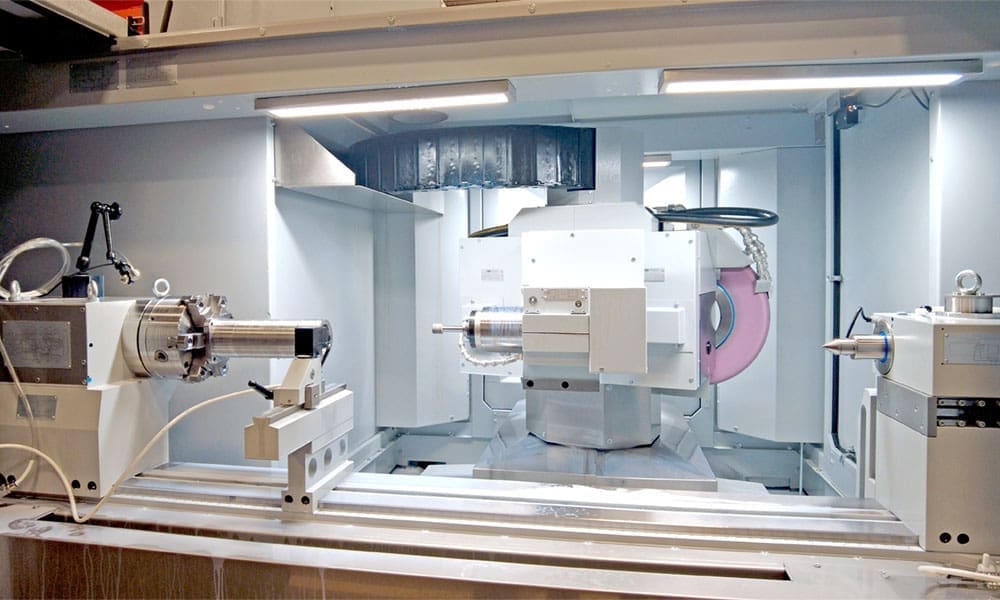 Precision Grinding
High speed spindles, precision tooling and power transmission components need more than just accurate machining.  Our CNC grinding capabilities take accuracy to the next level.  We are able to use sub-micron positioning and high-speed motion controllers to grind threads, tapers and non-round components in addition to OD and ID features.
We are setup for high-mix grinding of engineered components.  We have invested in work holding and tooling to allow quick changeover without a lot of effort.  Because we are grinding parts made in our machine shop and designed by our engineers, we can control the planning to make grinding very productive.
Cutting Tool Management
CNC machines need the right cutting tools to perform. Although all of our machines have tool setters for offset verification, UNISIG takes tool management to the next level with offline tool setup.
Using our programmable Zoller presetter, we can measure every contour on the tool and holder within microns, and communicate this information to the CNC on the machines. A 3D model of the tool assembly can be exported for programming also.
We have thousands of tools in our shop in order to have the optimal machining result in a huge variety of workpieces. We own our vending machine system which dispenses tools. Our dedicated tool setup staff manage libraries and make sure our machinists have what they need to run their machines automatically.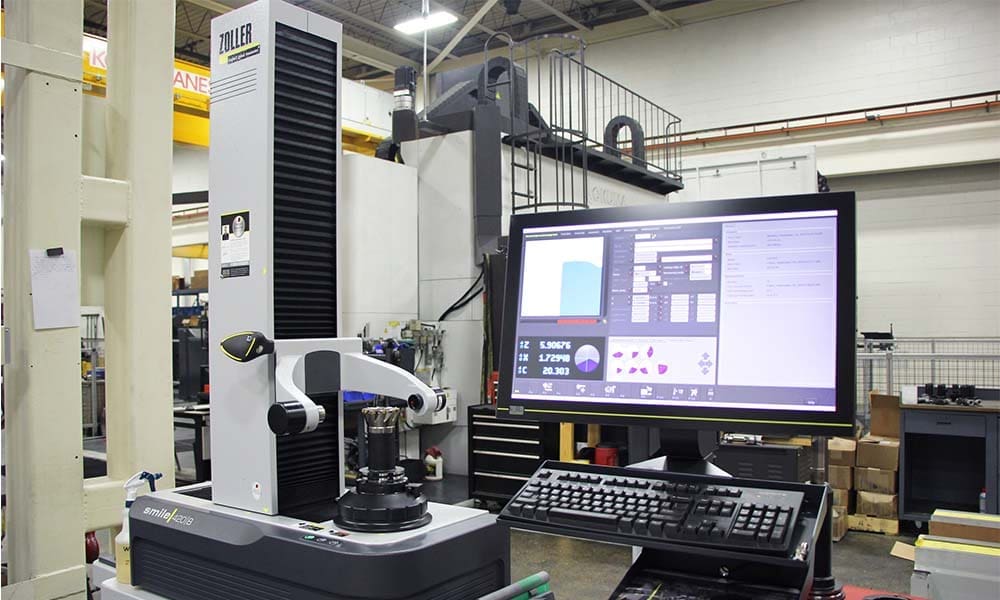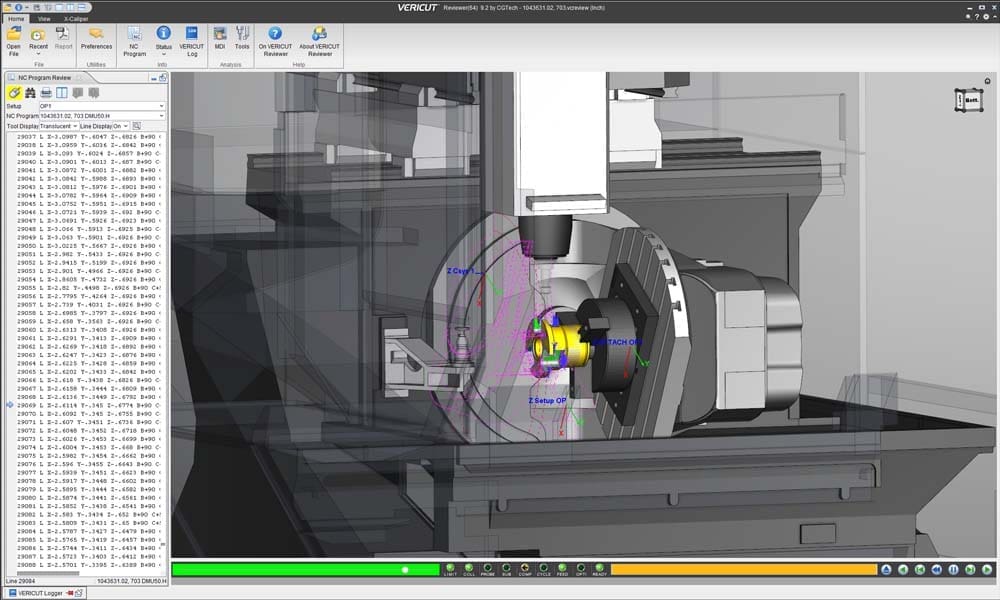 Programming and Simulation
CNC machining has changed drastically in many ways in recent years. The machines are more capable and the cutting tools are advanced to a point that would be unthinkable in the past.
CNC processing speed, multi-axis simultaneous tool paths and in-machine automation allow a continuous stream of machining without interruption.
To make all of that work on short run, high accuracy parts, UNISIG brings the entire machining environment – part, tools, fixtures and machines into 3D which allows our programmers to innovate and push the envelope.
Nobody wants to crash a three million dollar machine, but we have to move fast to be competitive. To make this possible without risk, we use Vericut for full 3D simulation and verification after programming to find problems virtually, and never slow down.
Modular Fixturing
The days of improvised setups, fear of pushing a part off locators and hitting a clamp with the spindle are over for shops that make the leap to a system of fixturing for their parts.
All of UNISIG's milling machines are equipped with FCS modular fixturing. This changed our entire way of thinking as we plan our machining steps and use our pallet systems.
We don't mind saying this – we took this idea from our best customers in the Mold industry, and it works extremely well for making our precision machine tool components.
Spending several hundred thousand dollars on fixturing might seem excessive, but we value our machinists time.  We have more than paid for the initial investment and it improves our profits every day our shop is running.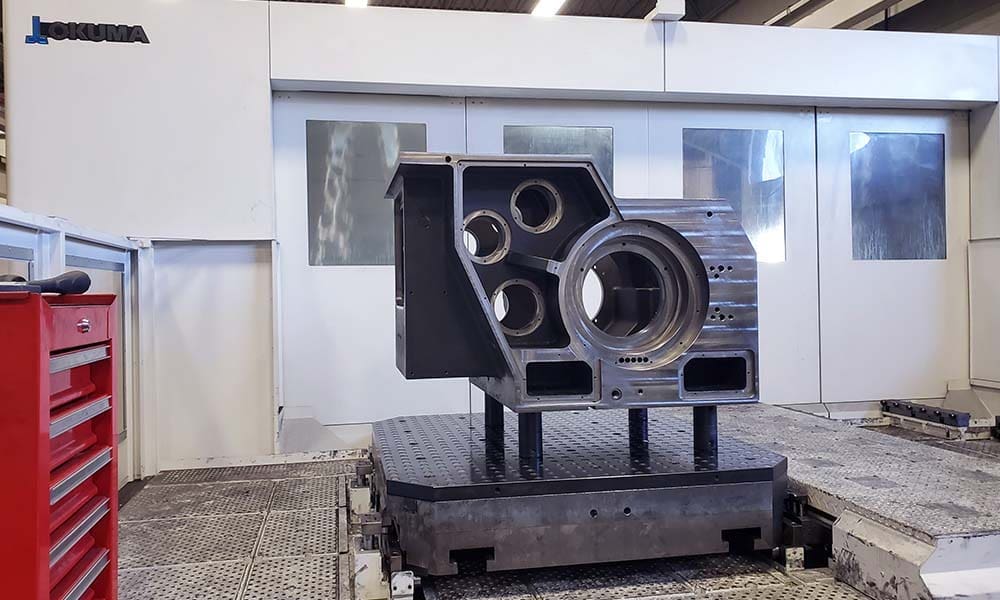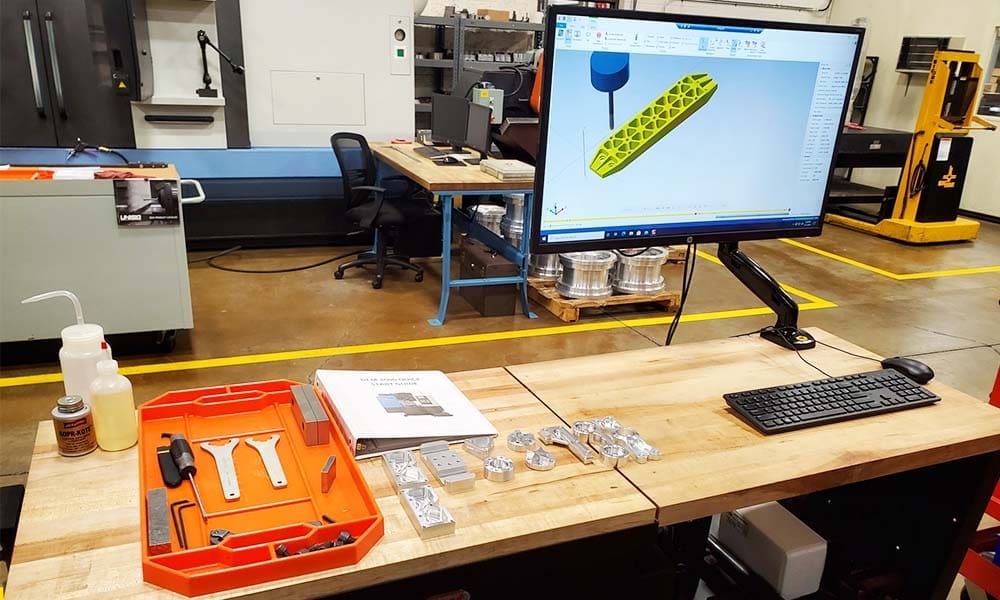 Training
UNISIG is committed to our future as a leader in CNC machining. We have found that even smart, experienced machinists need continuous training to stay at the top of their profession.
New machinists also need to have an infusion of technology alongside the extreme basics of metalworking, and we have adapted our training to this new world of machining.
Our training lab is equipped with a CNC milling machine and a CNC turning machine. These machines are used to move our people through the fundamentals to advanced machining concepts.
Not only machinists are trained in our way of machining. Engineers, machine builders and service technicians gain insight from knowing how CNC machines work inside and out.
DO YOU LIKE WHAT YOU SEE?