Core Competency – Electrical Assembly
UNISIG machines are infused with technology.  We use servo motion control, regenerative drives and high speed processors to push the performance of our machines.  Automation relies on sensors and networked devices to function with high intelligence. Precision instrumentation within the machines provide information that improve accuracy of our machine tools.  Our electrical assembly team has to make all of this come together.
The world is talking about the possibilities that electrification and intelligent machines will bring us.  We have been doing that since the 1980's.  It is about time everyone else caught up.
Electrical Assembly – How we do it better
The actual practice of building the electronics of a high tech, complex machine might seem intimidating.  For some it is.  At UNISIG, we know how to break down a machine into its individual systems and make a series of simple things come together so nothing is more complex than necessary.
We understand electrical theory and how the devices work.  We also have developed best practices for panel and machine wiring to make our machines reliable for many years of operation.  Electrical staff work alongside engineers as we startup and test machines.  We see what works well and what doesn't, which improves our judgment when we start the next project.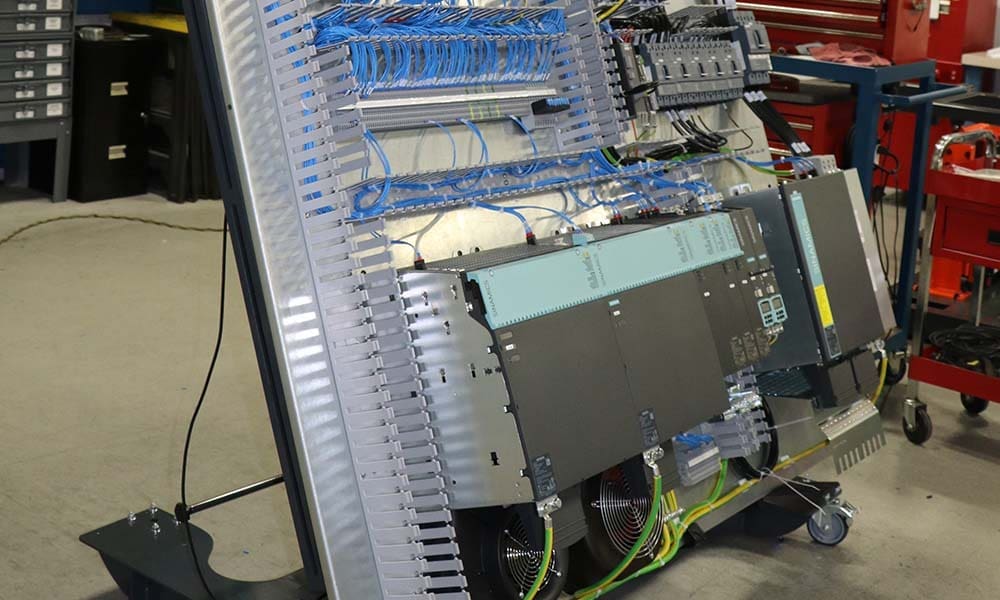 Electrical Panel Assembly
At the heart of our machines are the electrical panels and operator consoles built in our panel shop.  Our electrical technicians build these panels knowing they may be shipped anywhere in the world and must keep our machines running and communicating.
Some of our electrical assemblies are small, with a few networked devices and a HMI.  Other main electrical cabinets might have several hundred thousand dollars industrial electronics.  All of the products coming out of the electrical panel have to be wired correctly to the schematics, following the component manufacturers guidelines, and UNISIG's very high standards for reliability.
Our largest electrical systems have a lot of heavy components on the sub-panels along with a lot of smaller, complex devices.  We use ergonomic manipulators while building panels to reduce the reach and effort to get every wire and terminal right.
Machine Wiring
While wiring machines, a lot of important decisions are made by our electrical technicians.  These decisions are made using our best judgment, tempered by experience.  How should cables be routed to avoid stressing the wires or exposing them to the environment in a way that reduces their life?  Are we creating a situation where electrical noise or vibration will cause reliability issues?
A machine that is wired properly is a thing of beauty.  Flowing, uniform lines with logic to the plan gives a future maintenance person a shot at an easy component replacement someday in the future.  This is part of the UNISIG brand and the result of decades of development.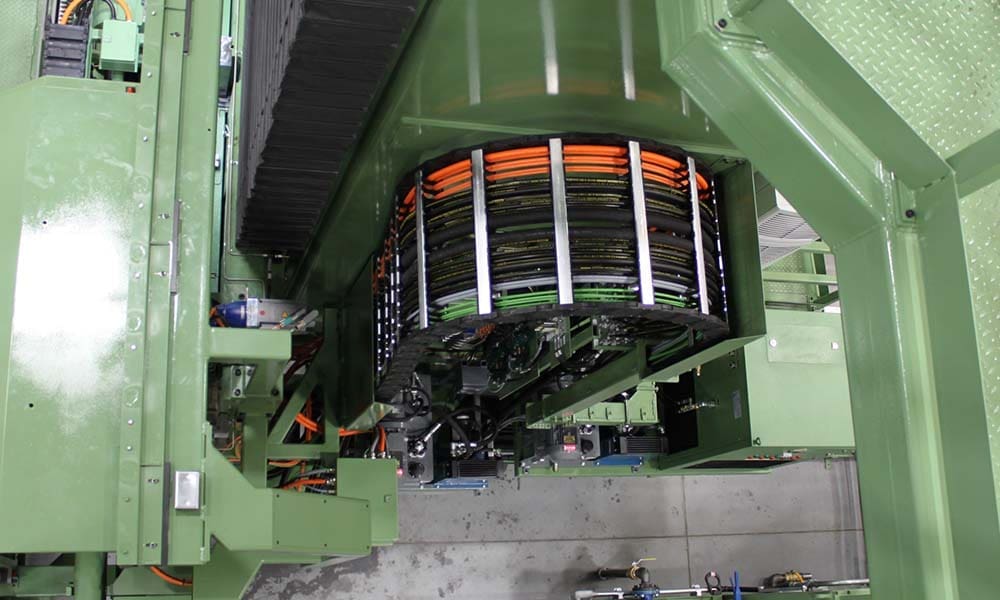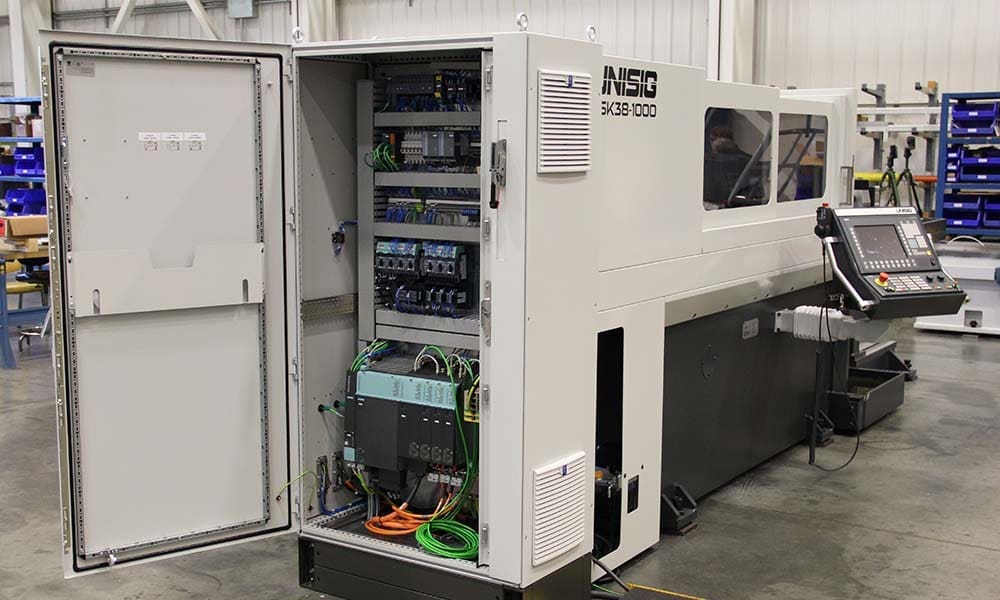 Machine Startup
Our electrical team brings our machines to life.  After every wire is checked, we put power to the machine and turn it on.  We use a discipline of safety and awareness as we bring devices on-line in sequence.  There is much more intelligence in our machines now compared to even a few years ago.  These devices have parameters that need to be set for their intended use.
The global installation base at UNISIG requires our electrical team to understand regional electronics, and different power systems that our machines need to be compatible with.  Most of the electrical control systems are universal, but some projects require special voltage transformers or parameter settings for testing in our factory that will change on installation.
During machine teardown, the electrical assembly team is careful to label everything correctly, and stow cables and disconnected equipment for a long trip so there are no issues at installation.
Standard Machine Commissioning
Once a standard UNISIG machine is under power, we start the important work of commissioning the machine.
Our electrical technicians checkout a laptop computer from engineering loaded with control applications software, select a master program from the engineering library on our network and configure the options specific to a machine serial number from the build sheet.
We start by establishing communications, then setup the machine network and download the programs to the machine. Each element of manual control is initiated, and then we work with the mechanical team to test each individual machine function.  Once everything checks out, we run automatic cycles and simulate device failures to confirm the fault logic and machine diagnostics.
When the electrical technicians sign off on the machine, it is ready for full process testing and demonstration to our customers.  Before teardown, the programs are backed up to the network and remote access is verified so we can communicate with the machine anywhere in the world.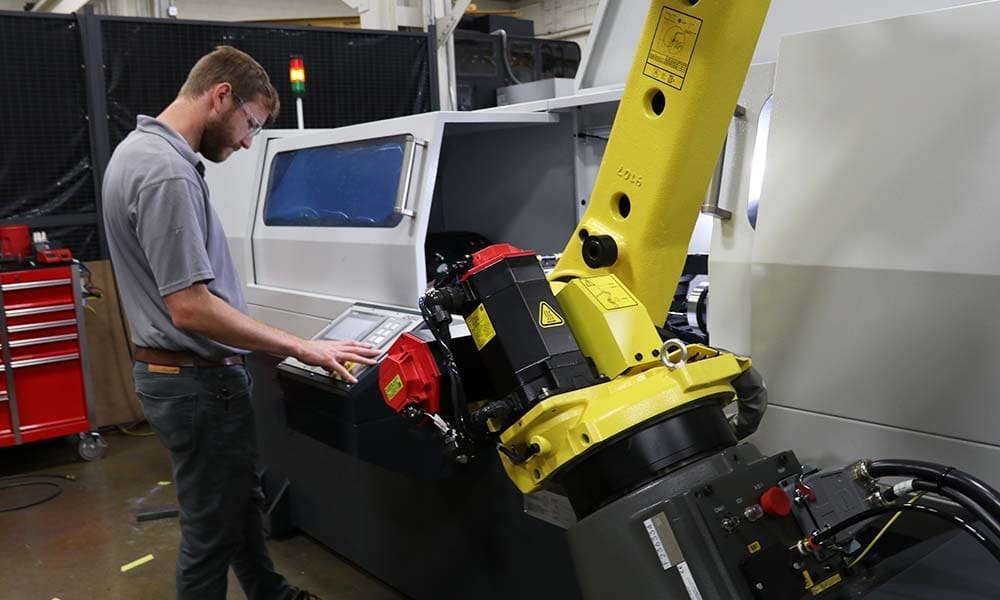 DO YOU LIKE WHAT YOU SEE?