Deep hole drilling and deep hole machining for the aerospace industry
UNISIG provides deep hole drilling machines to produce critical machined features in engine manufacturing, power transmission, airframe and landing gear.  Many of these components are made from exotic materials such as Inconel and titanium.  UNISIG builds machines that are engineered for these applications.
Large aerospace industry OEM's as well as subcontract machine shops rely on UNISIG machines for drilling aerospace components.
Deep hole drilling machines are used to create finished bores with very difficult characteristics. These bores exceed the capabilities of multi-tasking machining centers, even when gundrilling or deep hole drilling tools are applied.  The same machines can also be used for the first roughing operations with very high metal removal rates, or to establish a workpiece centerline with very straight, very deep holes that can be used as a starting point for mill/turn or precision turning operations.
UNISIG machines are used for advanced internal machining using CNC bottle boring is available on many of our machines to extend capabilities beyond the norm.
Tooling systems for aerospace deep hole drilling applications
Gundrilling – internal coolant delivery with external chip return.
Solid carbide, brazed and indexable
Diameters from 1mm – 40mm
BTA deep hole drilling – external coolant delivery with internal chip return
Drilling, counterboring, bottom forming, skiving, burnishing, trepanning
Diameters from 20mm – 500mm
Bottle boring for internal contouring
Engineers and product designers at Aerospace manufacturers are always looking for ways to reduce weight and extend performance.  Internal contours deep inside bores are possible using the bottle boring process.  These applications can be challenging, but UNISIG has systemized the process using the same CNC capabilities available in CNC turning on the outside of the part.
Aerospace Shaft Components
UNISIG machines are capable of drilling holes deeper that 100:1 ratio.  Centerline drift is reduced dramatically by using the counter-rotation process, which is standard on most UNISIG center-drilling machines.
Rigid, preloaded drive system and high precision spindles get the most out of the latest gundrilling and BTA drilling tools.  Easy to use and flexible machines are a at home in a Aerospace job shop or original equipment manufacturers for production of rotor shafts, turbines, thrust arrestors, turnbuckles and many other components.
Landing Gear Components
Many aerospace components start with forgings with long extended arms or lugs that need to be fixtured and equalized, and the machines must swing these parts in order to use counter rotation or maintain optimal tool orientation.  UNISIG B-series machines are commonly used for these challenging applications.
UNISIG deep hole drilling machines for landing gear have very high power headstocks with enormous spindle torque, but with the available advanced CNC and motion controllers, these machines are refined and capable of the most difficult deep hole machining applications.
Special applications
Gundrilling is a versatile process that can be applied to special applications.  Hinges, pistons, cylinder bodies, nozzles are can produced with standard UNISIG gundrilling machines.  UNISIG produces specialized workholding and automation to meet the needs of special aerospace deep hole drilling production.
UNE6 Series
Gundrilling machines for hole less < 1 mm to 6mm (0.04 in to 0.25 in) diameter
UNE Series
Single and dual spindle machines for holes 3 to 40 mm (0.12 to 1.50 in) diameter
USK Series
CNC gundrilling machines for off-center drilling
Application Support
UNISIG has worked with customers around the world to bring gundrilling, deep hole drilling and deep hole machining into their core competencies.  We provide machines that give users an edge, and back it up with engineering services and application support for unique component production.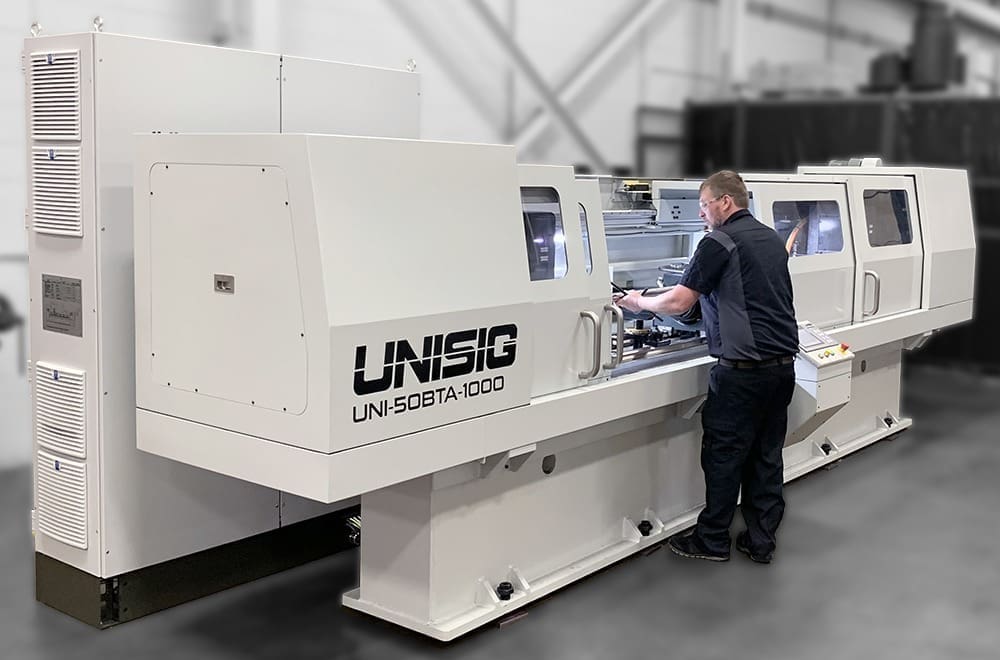 Additional Aerospace Resources