Core Competency – Precision Fabrication
Precision is a lifestyle at UNISIG; and we perform precision fabrication, not just fabrication.  We maintain exceptional accuracies through manufacturing technologies, and our workmanship shows in every step.
Fabricated components often form parts of the enclosures of a machine and are therefore the first things our customers see. In-house fabrication capabilities allow us to open up design possibilities for shape and structure and provide the basis for building machines that are functional, easily maintained and promote safety.
Fabrication – How we do it better
We leverage technology to make precision fabrication look easy. Repurposing 3D design data from engineering allows us to create 3D simulations in the fabrication department, maximizing efficiency.
This technology is embedded in our fabrication equipment – CNC fiber laser, CNC press brake, state-of-the-art welders and even fixturing. Our fabricating team has the metalworking skills and techniques born from experience, but they get a lot more done with a lot less work using advanced technology.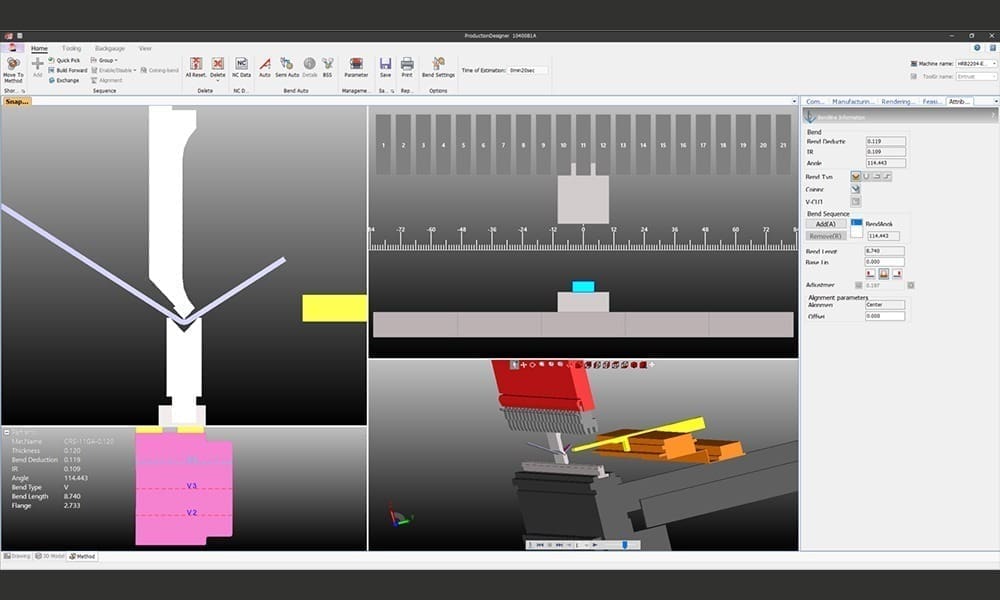 Programming and Simulation
Our fabrication team starts by opening a 3D model of the workpiece, reaching directly into the engineering library for the source, then we develop the manufacturing process:
Validate the model for efficient manufacturing – can it be produced as-designed, or does it need further review?
Develop the manufacturing details in the 3D environment – material type, thickness, bends, rips, cuts, corner treatments and weld allowances.
Create nesting patterns for laser cutting and simulate bend operations with 3D tool libraries.
The experience gained from this process is used to collaborate with design engineers to make it easier and smarter next time the part is made.
CNC Cutting – Fiber Laser
Our fiber laser is the heart of the precision fabrication process.  Accuracies are measured in thousandths of an inch, and it cuts very fast.
We use the laser to create features in the components that simplify fabrication – tabs for alignment, engraved notes for assembly, and minor diameter for threaded holes are accurate enough to follow with a standard tap. The nesting plan created in simulation is visible right at the machine control.
The pallet changer allows us to load the next sheet while the laser is running.  Sensors on the laser locate the sheet, follow thickness changes and manage scrap and remnant cuts.  Our fabrication team uses the laser to eliminate machining processes with innovative fixturing concepts to cut hinges and tube.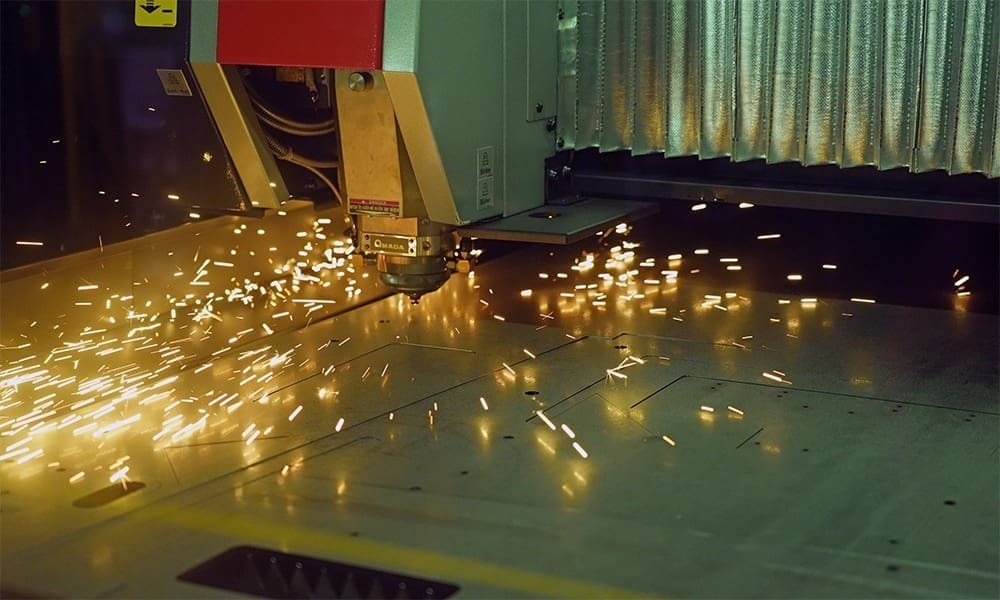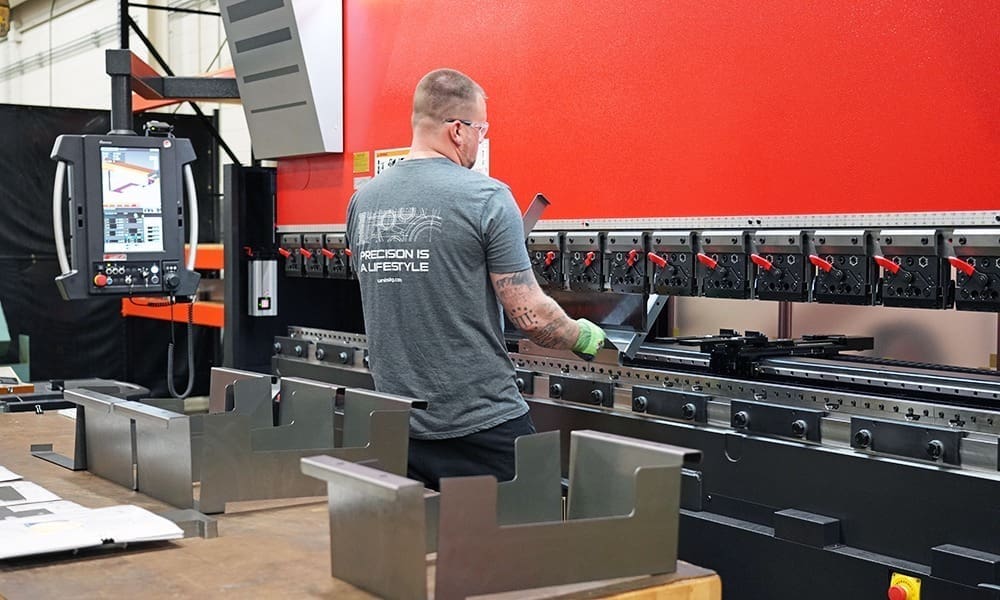 CNC Forming – Press Brake
Press brake technology has advanced well beyond simple machines that bend a part. Our CNC press brake is both smarter and better connected than that.  All of the quick change tooling is stored in a 3D library in the control, which allows us to fully validate the bending process and make adjustments real-time for material thickness or air-bending tolerances to get the exact angles we need.
Our 7-axis CNC back gage shows the operator exactly where to place the sheet for the next bend.  This capability opens opportunities for high accuracy geometries that slide together with precision, and also allows angles, tapers and radiused parts to be formed with ease.
Tooling setup is simplified – quick change holders are lined up to the CNC back gage using a 3D model for reference on the full-color monitor. Running a sophisticated machine like this is easy and safe because of the technologies and workflows in our fabrication department.
Fixturing
Our precision fabrication mindset is carried throughout the fabrication process. Just like in our machine shop, we use a modular fixturing system to simplify setup and take the struggle out of holding onto our parts while we work. Even if we are only making a single part, we make it right the first time. When we are making several of the same assemblies, the fixture stays in place and we take finished parts out and put raw components back in place without breaking the setup.
The result is a more accurate welded part, with less time and effort to get it done. Manufacturing technology is leveraged in every aspect of our company. Pairing the right tools with technology enables an efficient approach and is key to our success.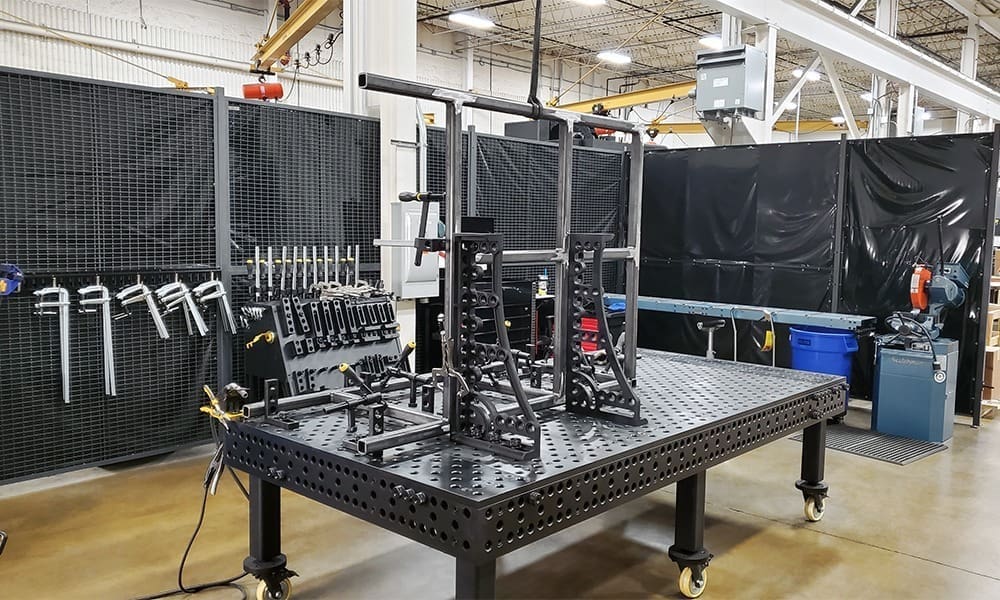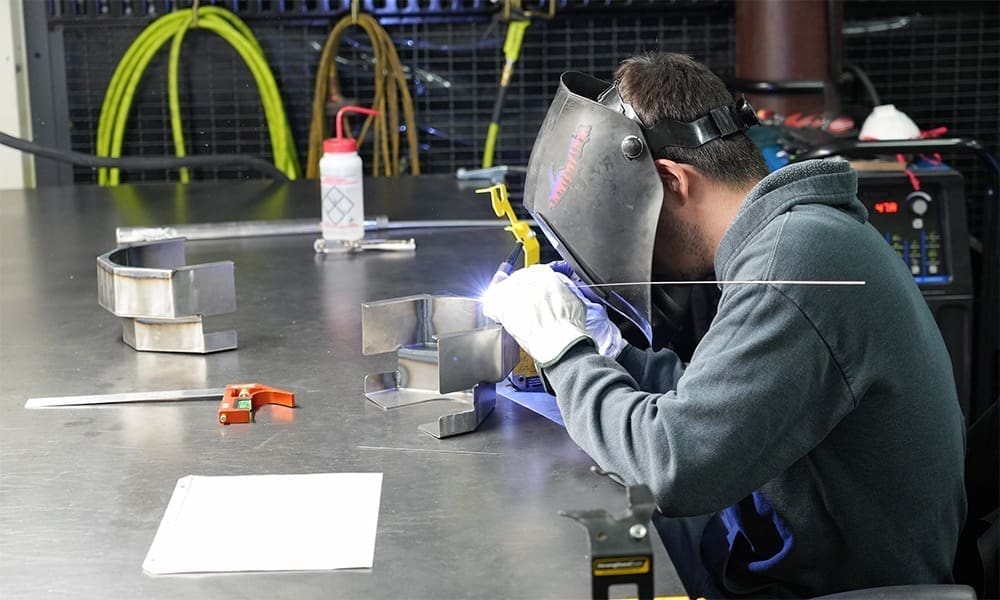 TIG Welding
TIG welding is clean, cool and versatile.  We weld enclosures that have intricate features for telescoping and sealing to contain cutting fluid while protecting the operator. The fit and finish of our welded parts reinforce the value of our brand.
TIG welding is our first choice for sheet metal, tooling and welding stainless steels as well as carbon steel and tool steel. Our welders frequently complete parts that are pre-machined by CNC machines and welded together as the final step.
MIG Welding
Larger parts with thick material and long welds are best suited for MIG welding. Our MIG process is state of the art – computer controlled arc, weld configuration and touch-screen setup to meet our standard for technology.
To avoid dragging welders and cables on the floor we invested in a powered weld boom to bring the welder above the ground and right to the work.  Our boom has a fume extractor at the gun, and a filter system to keep the welding area clean. We admire our welders for their skill set, and we reward them with the right tools to get their job done.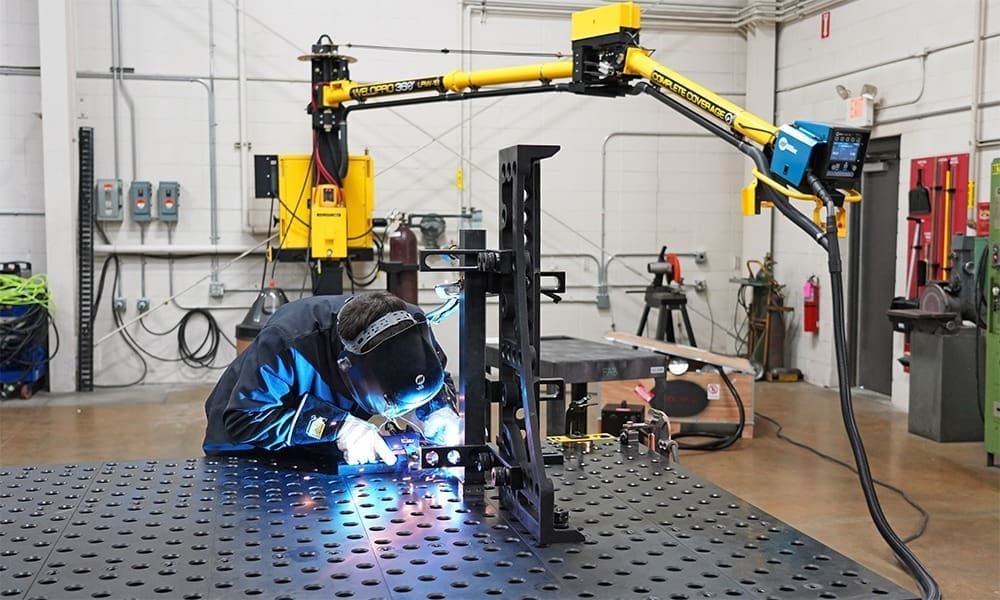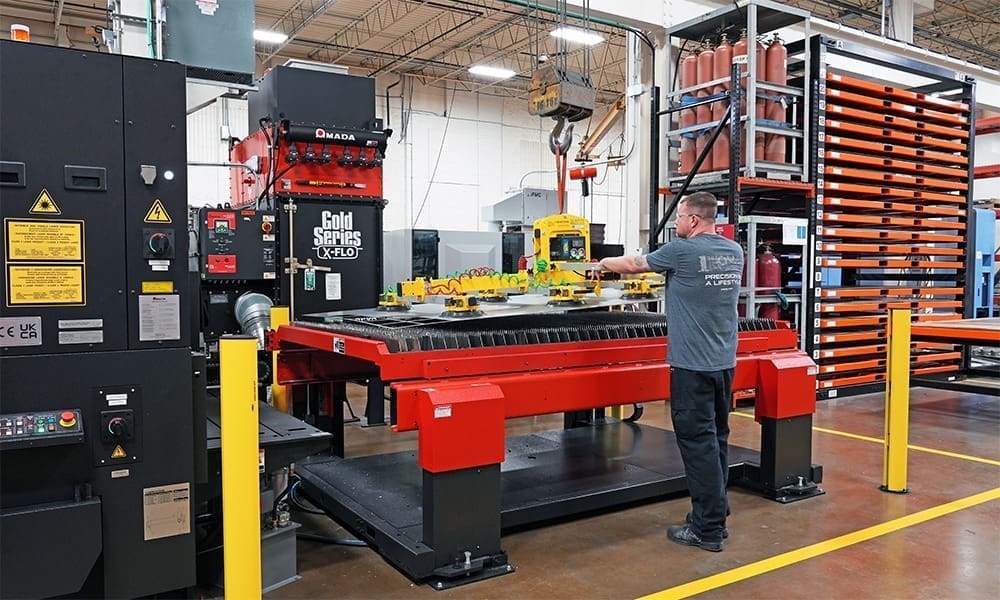 Material Handling
Storing raw materials, handling sheets and manipulating large assemblies during the fabrication process needs a good plan and the right equipment to be efficient.
Our fabrication department has full bridge crane coverage, with the ability to lift and roll the the largest weldments we produce.  We have sheet lifting devices that can be configured for very thin sheet or thick plate. We stock all of our raw sheet with an interchangeable pallet system, so we are able to purchase in bulk to get competitive pricing, and respond to the wide variety of parts we have to make.
Clear, open aisles and well planned workstations keep the materials flowing, and make it a safe and clean place to work.
The Finished Products
Every component made by our fabrication team is part of the UNISIG product line.  The finished product shows the workmanship and precision that is expected in high-value equipment.  Many of the machine designs are inspired by the capabilities of our fabrication department.
The clean lines and effective enclosures of CNC machines are made possible with sheet metal fabrication. The internal structures of the supporting systems, fluid reservoirs and hundreds of other areas are influenced by precision fabrication. Robotic automation systems use fabricated components in every part of build – integrated fabricated bases, electrical device mounts and operator consoles.