Core Competency – Mechanical Engineering
Mechanical Engineering is often the starting point to interpret the needs of our customers and development of ideas into viable products.  UNISIG has exceptional capabilities in mechanical engineering starting with early concept design and finishing with test and development of the final product and applications.
Our team uses the latest in engineering tools for design, engineering and simulation.  Most companies can say this, but few have the experience and training programs in place to have their mechanical engineering team be a real driver of international business growth.
Mechanical Engineering – How we do it better
We have extensive experience with mechanical engineering and design, but we never stop learning.  Our engineers are exposed to the real world by supporting projects and testing the machines they design.  We allow creative designs to flow, then test them with analysis and applied theory.
Unisig engineers are equipped with the best tools for the job.  This includes utilizing home grown tools that allow for quick and accurate machine design computations, and the latest software for 3D design, analysis and manufacturing.
Our engineering team lives our core value "strong individuals that value a team" because many of our projects are too complex for a single person to finish on their own with the level of refinement and within the timeframe necessary for commercial success.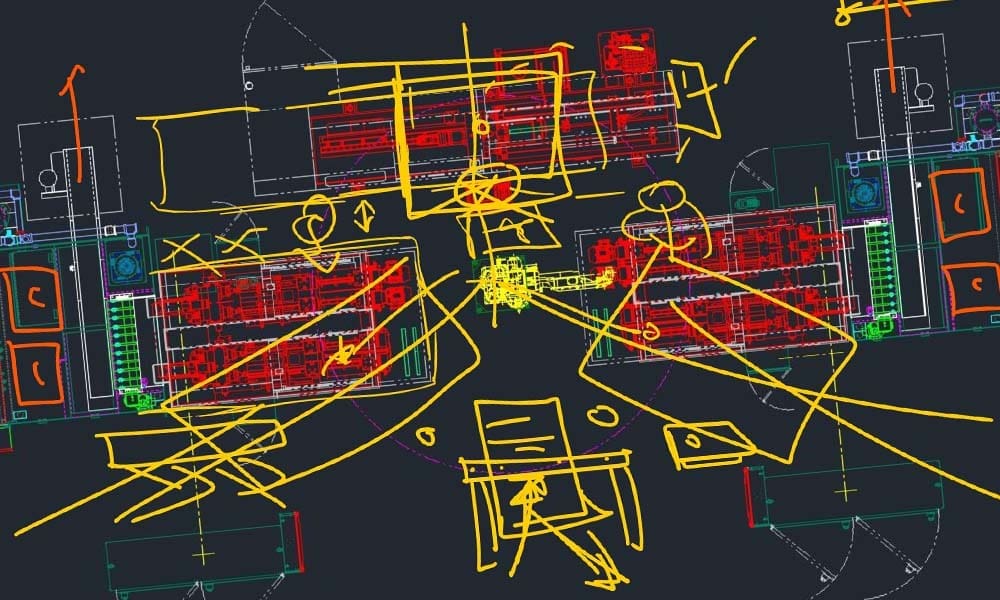 Concept Design and Engineering
UNISIG mechanical engineers are often tasked with clean-sheet design and engineering projects that require a new approach.  In some cases, they are planned new-product development initiatives that expand our offering.  Often, however, a customer approaches us with their needs that haven't been answered by industry.  In these cases, we develop a new concept, test it against engineering theory and our practical experiences, then bring it to a form that is engaging to review.
Our engineers work efficiently at design engineering as it utilizes gained practical experience coupled with powerful engineering tools. Concept design also exercises our creativity which keeps our standard designs from becoming obsolete.
Applied Engineering Theory and Analysis
Once our design concepts are roughed out and specifications are determined, UNISIG engineers use their understanding of engineering principles to make sure the core of our products are solid. We build calculation models for the foundation and then test them with 3D simulation and analysis tools.
Internally our technical leaders review machine concepts and analysis reports, ensuring that our customers are presented with a high performing engineering-based design.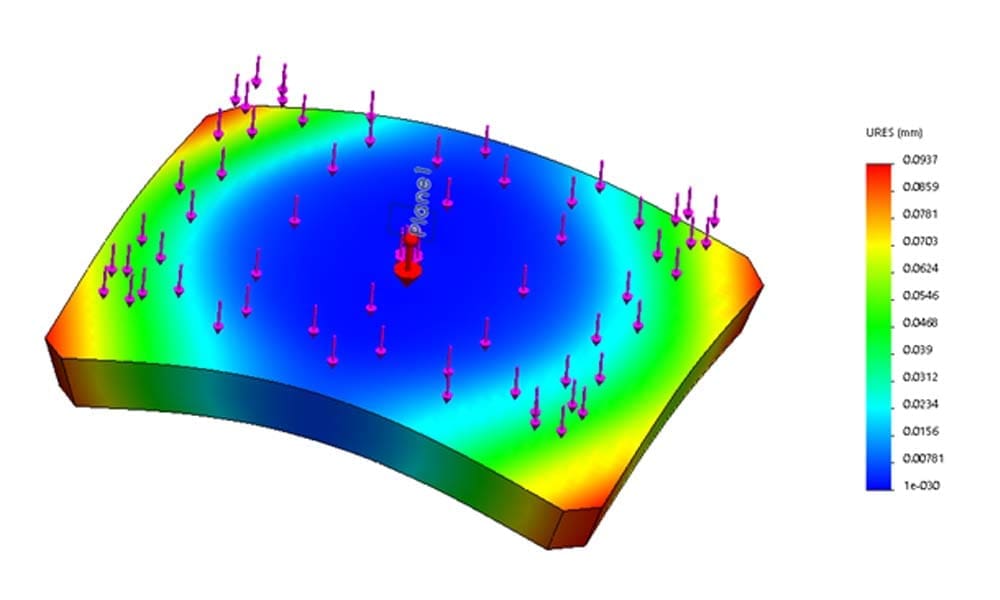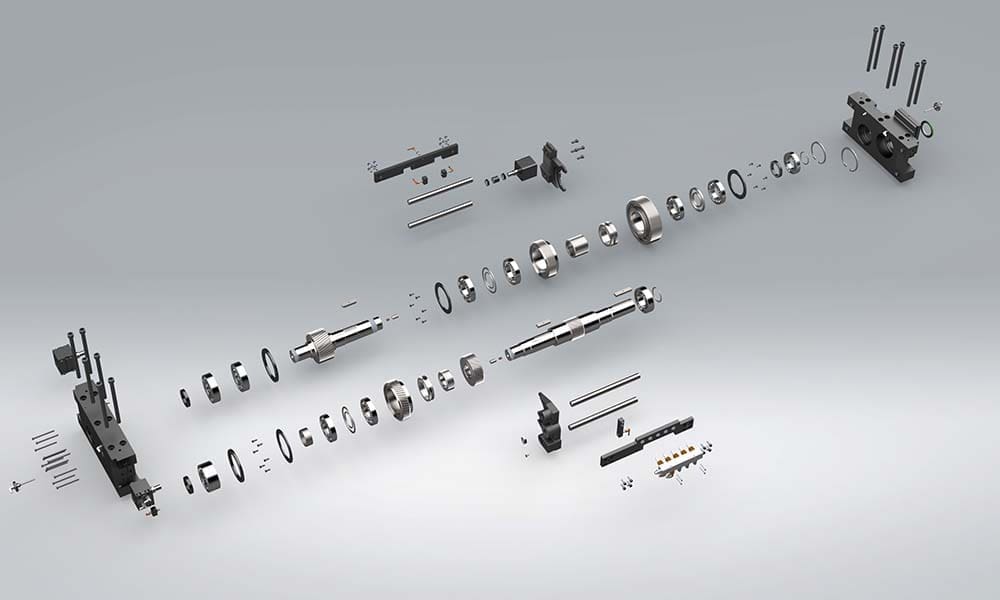 Precision Power Transmission Engineering
Machine tools are on the top of the machine food chain, as they are used to make other machines.  UNISIG machines demand very high precision rotating spindles, quiet running gear trains and servo motion control.
Our engineering team has exceptional capabilities in these areas.  We build impressive geared headstocks for our large B-Series machines.  Our USC-M series machines have 5-axis positioning and their positioning accuracy is measured in microns.  Most machines in the world don't need this type of accuracy, but all of ours do.
3D Design
A lot of the time spent in mechanical engineering is in the design space.  We move the concepts and engineering theory into a workable form.  As designers, we use practical experience in precision mechanical systems, cast and welded structures, innovative mechanical devices, sheet metal and fluid systems to bring a machine into a completed form.
When the design is approved, we unleash our inner perfectionist and create manufacturing drawings with tolerances to give our shop the information they need to make the parts and assemble full machines.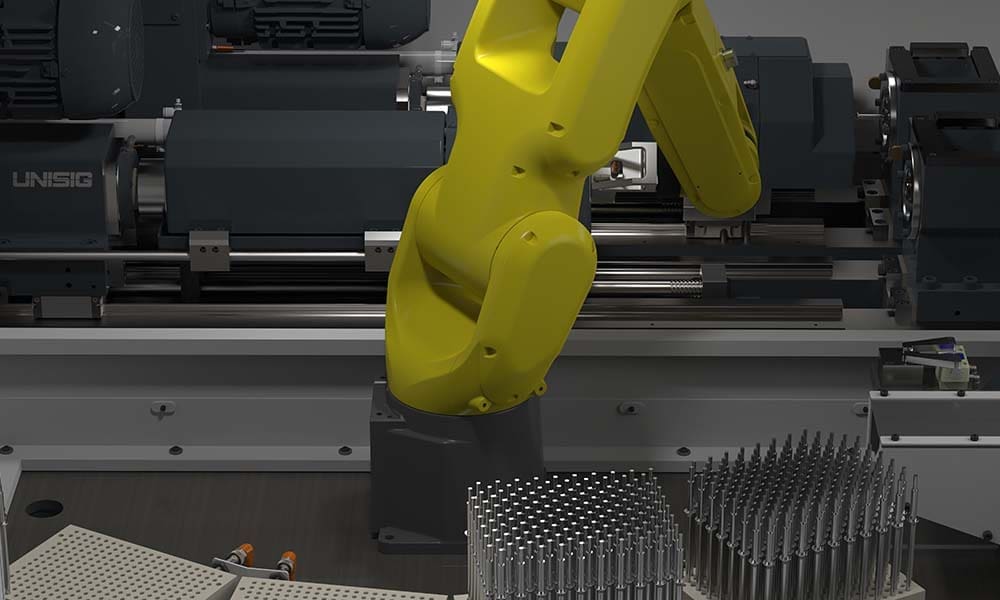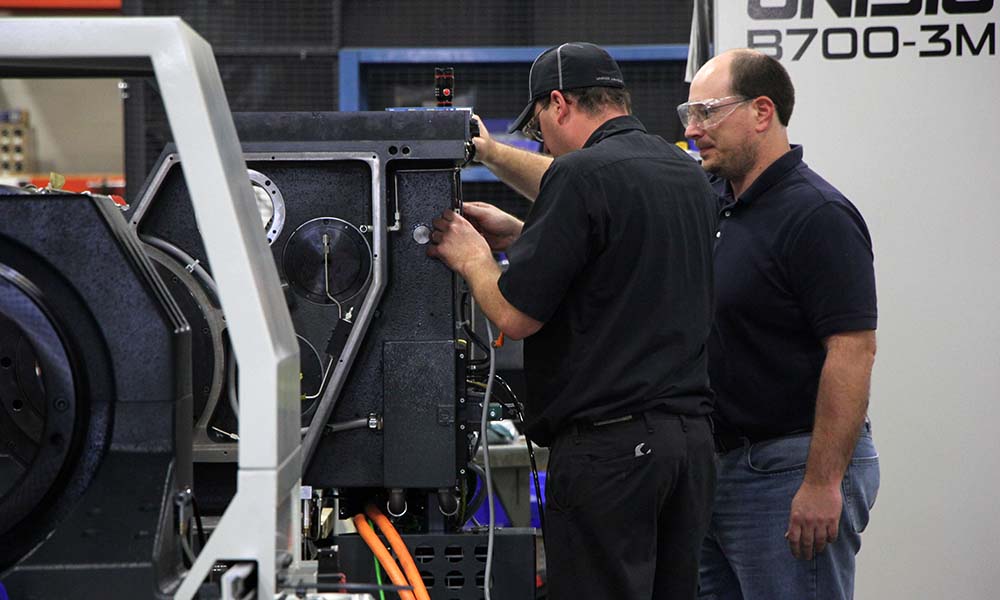 Problem Solving and Testing
In the same large building as our mechanical engineering department, we machine precision parts, fully assemble machines and automated system, power them up, and prove that they work.  Just steps from the engineering office, our engineers have the capability of interacting with the entire process of building a world class machine tool.  From the manufacturing of precision components through the careful inspection of machine accuracy, our engineers have the opportunity to participate in it all.
This is where our mechanical engineers gain their experience rapidly. Physics, and practical realities of what works and what doesn't makes themselves known.  Basically, there is nowhere to hide.  Everybody makes mistakes.  We have all achieved a more profound understanding of core engineering principals about 10 seconds after we see something we design not fit together.
This is the area where the deep satisfaction for true engineers exists.  Solving problems, making machines work better through testing and optimization, and watching the results of our creativity is part of the UNISIG engineering experience.
Applications Engineering
UNISIG builds flexible machines and automation that must be applied to meet our customers needs.  There are quite a lot of new ideas and design creativity required to find solutions without imposing unnecessary expense or cycle time to the systems we build.
The UNISIG applications process begins with the discovery of our customers needs with regards to their desired workpieces.  After a review of tolerances, production rates and part handling needs, we propose tooling, define processing parameters and select a machine that is capable of performing.
Cutting tools and robots are combined with UNISIG machines by our applications team.  We propose a solution to our customers, support sales and marketing to win the order, then prove everything we had planned worked by demonstrating the full manufacturing process to our Customers and training them so they can take ownership.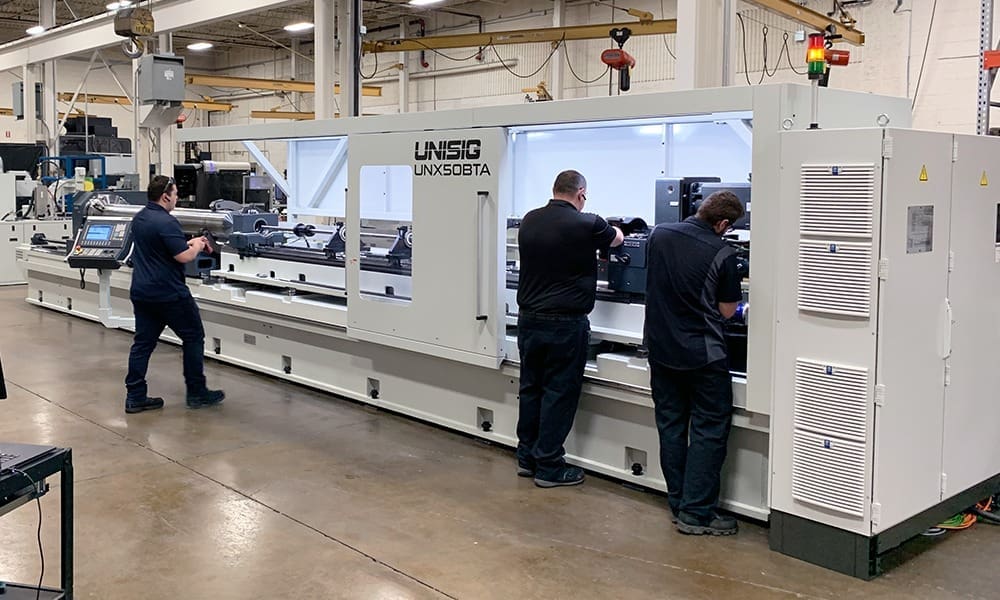 DO YOU LIKE WHAT YOU SEE?