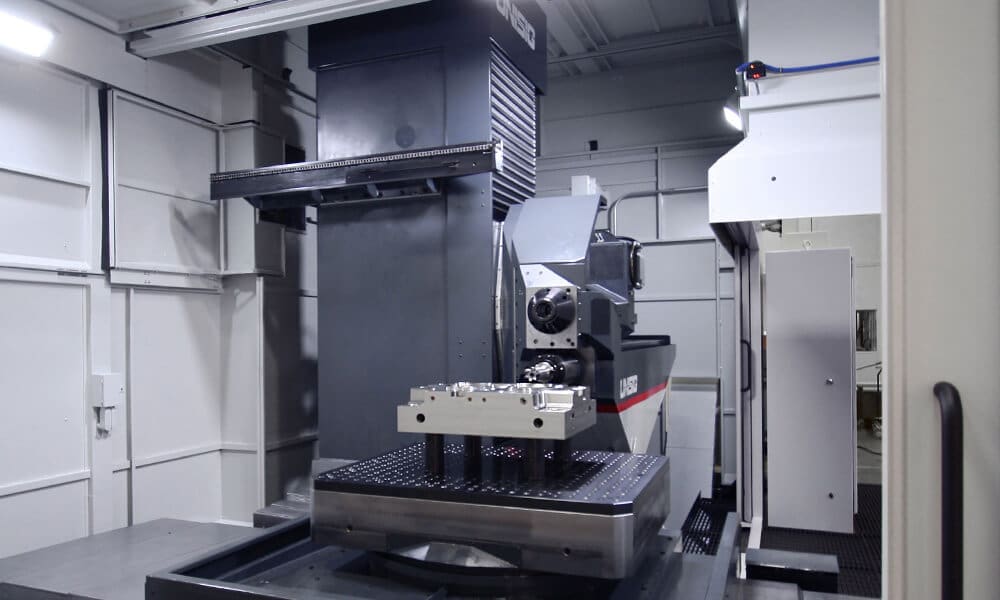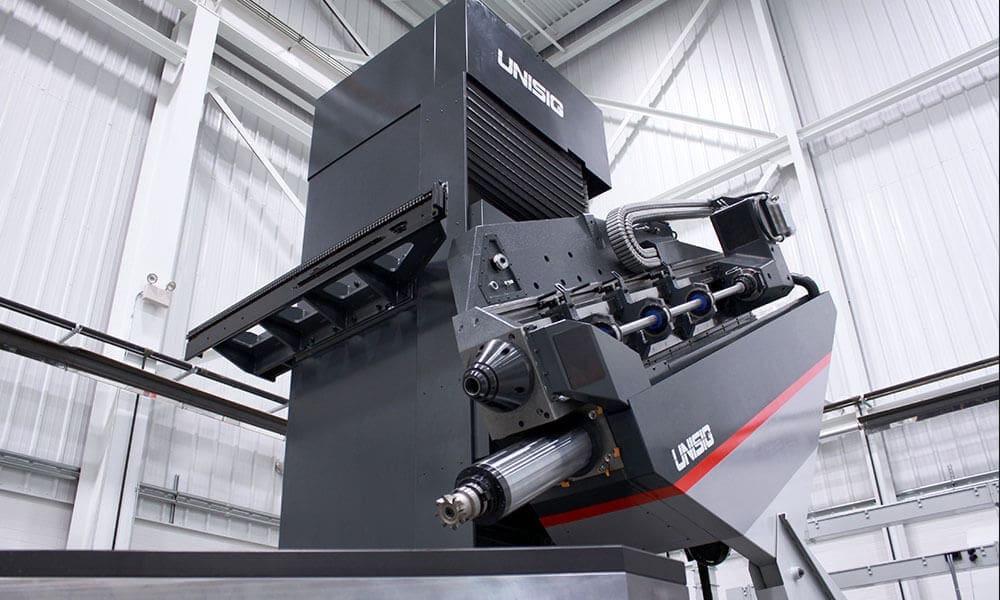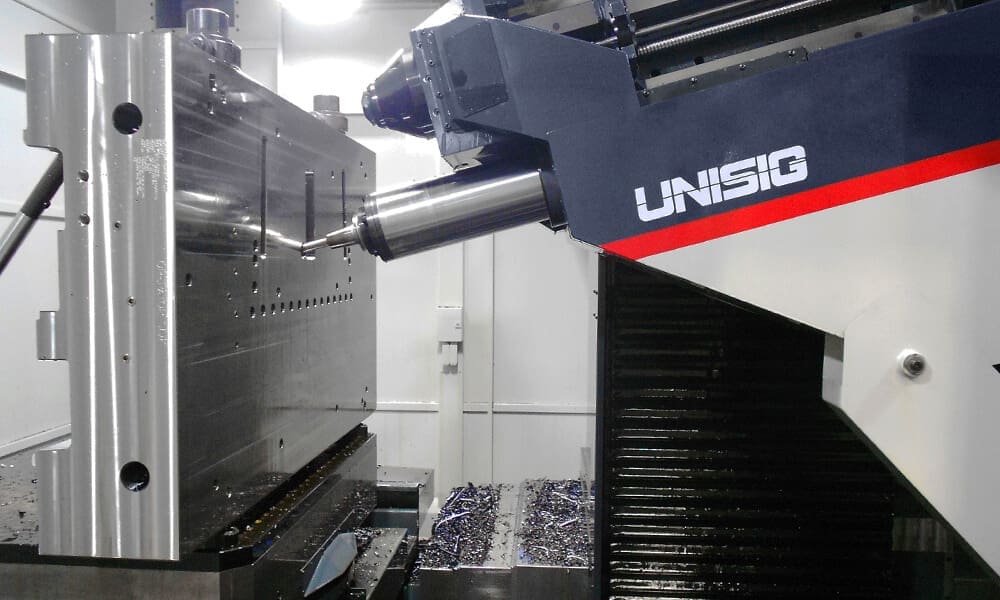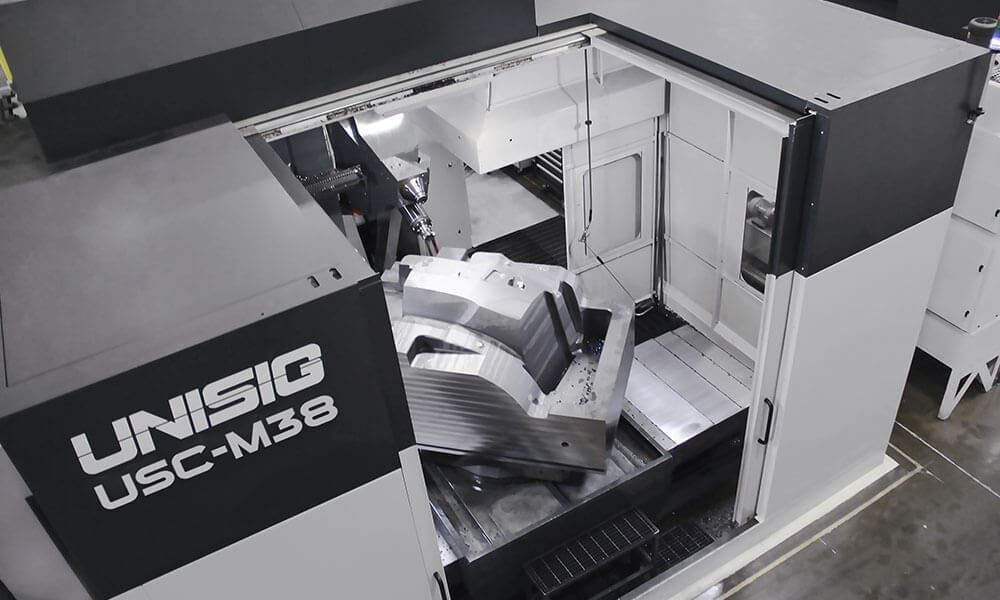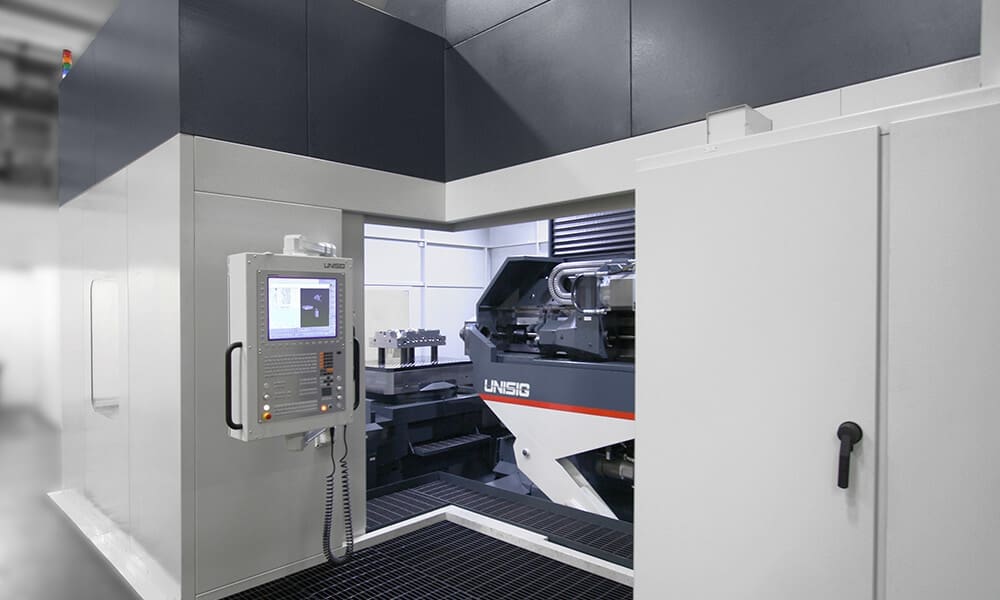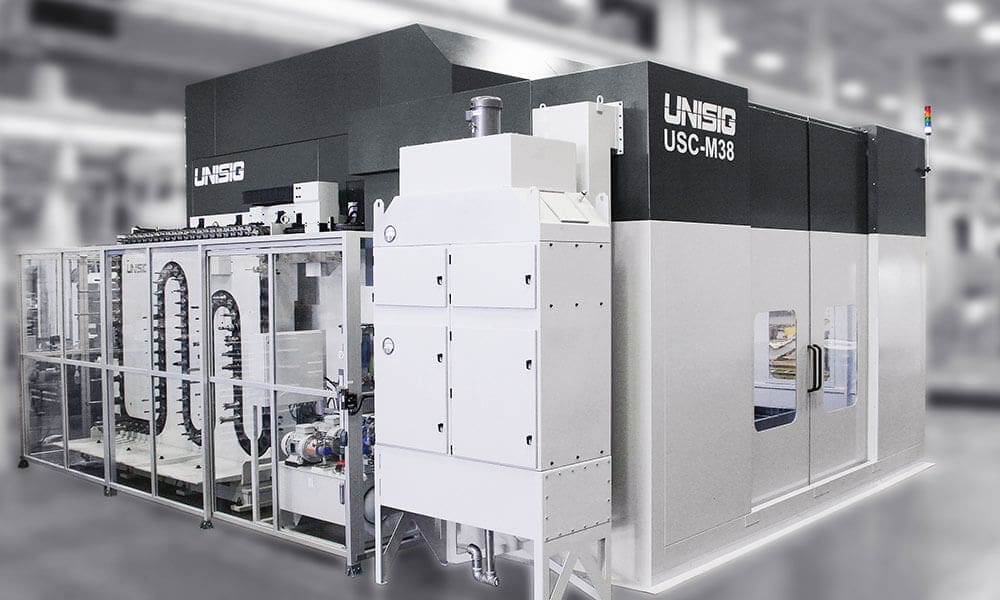 USC-M Series Milling and Drilling Centers
For industry-leading mold manufacturers who are looking to re-define moldmaking from design to production, the USC-M series brings unmatched capabilities in a single, game-changing machine. Combining deep hole drilling and machining processes on a powerful, 7-axis machine allows manufacturers to change the way they produce molds from the ground up.
USC-M deep hole drilling and machining centers radically change the mold making process by combining gundrilling, BTA drilling, and up to 120 tools in a single, guarded machine, with a heavy-duty rotating table and tilting A-axis, for increased accuracy in production, and significantly increased mold throughput.
| Description | USC-M38 | USC-M50 |
| --- | --- | --- |
| Rated gundrill diameter | 50 mm | 50 mm |
| BTA Drilling Diameter | 38 mm | 50 mm |
| Drill Depth | 1500 mm | 1830 mm |
| Drilling Spindle Power (S1 100%) | 15 kW | 22 kW |
| Machining Spindle Nose | SK50/CAT 50 | SK50/CAT 50 |
| Machining Spindle Power (S1/S6 60%) | 20/25 kW | 24/30 kW |
| Automatic Tool Changer Option | 24 – 120 position | 24 – 120 position |
| Z-Axis Travel (Column or Ram Position) | 1,000 mm | 1,524 mm |
| X-Axis Travel (Table Horizontal) | 2,200 mm | 3,050 mm |
| Y-Axis Travel (Headstock Vertical) | 1,700 mm | 1,830 mm |
| W-Axis Travel (Drilling) | 1,830 mm | 2,440 mm |
| U-Axis Travel (Machining) | 500 mm | 500 mm |
| A-Axis Travel (Headstock Angle) | +30°, -15° | +30°, -15° |
| B-Axis Increments (Table Rotation) | 360,000 positions | 360,000 positions |
| Table Top Dimensions | 1,000 x 1,200 mm | 1,250 x 1,600 mm |
| Table Weight Capacity | 15 t | 23 t |
| Description | USC-M38 | USC-M50 |
| --- | --- | --- |
| Rated gundrill diameter | 2.00 in | 2.00 in |
| BTA Drilling Diameter | 1.50 in | 2.00 in |
| Drill Depth | 59.1 in | 72.00 in |
| Drilling Spindle Power (S1 100%) | 20 hp | 30 hp |
| Machining Spindle Nose | SK50/CAT 50 | SK50/CAT 50 |
| Machining Spindle Power (S1/S6 60%) | 27/33.5 hp | 32/40 hp |
| Automatic Tool Changer Option | 24 – 120 position | 24 – 120 position |
| Z-Axis Travel (Column or Ram Position) | 39.4 in | 60.0 in |
| X-Axis Travel (Table Horizontal) | 86.6 in | 120.0 in |
| Y-Axis Travel (Headstock Vertical) | 66.9 in | 72.0 in |
| W-Axis Travel (Drilling) | 72.0 in | 96.0 in |
| U-Axis Travel (Machining) | 19.7 in | 19.7 in |
| A-Axis Travel (Headstock Angle) | +30°, -15° | +30°, -15° |
| B-Axis Increments (Table Rotation) | 360,000 positions | 360,000 positions |
| Table Top Dimensions | 39.4 x 47.2 in | 48.2 x 63.0 in |
| Table Weight Capacity | 33,075 lbs | 50,715 lbs |
USC-M Options for Improved Accuracy
USC-M Options for Improved Productivity
USC-M Additional Machine Accessories
USC-M Machine Recommendations
Additional Mold Manufacturing Resources