The future of the auto industry is interesting but uncertain. No one knows how quickly electric vehicles are going to replace gasoline- and diesel-powered vehicles, how completely it will happen, and when it will occur in passenger cars as opposed to SUVs and heavy trucks. However, we do know that fuel economy standards continue to progress and drive vehicle design toward smaller displacement, higher-technology engines.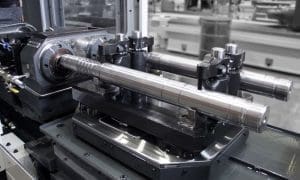 As a result, technology that was developed years ago for high-performance vehicles is now becoming mainstream. For example, sodium filled valves, which formerly were used in only extremely high-performance engines to manage heat in the valve train, are becoming more common. The same goes with hollow camshafts, which reduce energy-consuming rotational inertia and provide opportunities for engine management.
Within vehicle drivetrains, today's automatic transmissions now have as many as eight or even 10 speeds instead of five or six. This wide selection of gear ratios enables smaller displacement engines to provide better fuel economy and deliver higher performance.
These kinds of technological upgrades for higher performance and economy are not new, but previously were considered too costly for general use. Now, advanced manufacturing and materials technology make common application of these upgrades viable.
Enabling Cost-Effective Production
Deep hole drilling is one advanced manufacturing technology that allows for the cost-effective production of key features of those performance-boosting parts. Sodium-filled valves, for example, have holes drilled the length of the valve stem in which liquid sodium circulates and draws heat from the valve head. Precise deep hole drilling methods enable hollow and more energy-efficient camshafts to be manufactured. Complex multi-speed transmissions feature shafts with multiple off-center holes of varying depths for lubrication or hydraulic sequencing. The holes in the shafts are too deep to produce effectively on machining centers, so deep hole drilling machines are critical in those instances.
Balancing Volume Output with Flexibility
Other manufacturing challenges in automotive production can also benefit from today's advanced machine tool technology. For decades, the automotive industry focused nearly exclusively on volume production. The emphasis was on making as many parts at the lowest cost possible. Flexibility was merely a minor consideration.
Market changes have made balancing volume output with flexibility a major issue. If volume drops on a vehicle program, there remains a need to produce the vehicle cost-effectively. Expanded product mixes created to meet customer desires for different powertrains and other options demand high efficiency regardless of volume.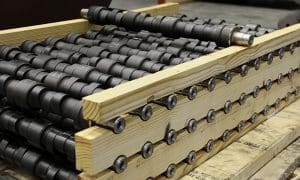 Consequently, flexibility and spindle utilization have become the main drivers of deep hole drilling machine design. Instead of having a gang of four spindles pounding out parts, a two-spindle machine with a rotary table and X-Y positioning system can provide extremely high spindle utilization along with flexibility. Technology such as automated setup through servo motion to reduce changeover time is also considered in the early concept development of the machines. These systems allow manufacturers to plan and implement small, agile cells to replace large, old-school, high-volume systems.
Benefits of Machine and Fixture Design
A recent customer experienced significant benefits with UNISIG's machine and fixture design. Previously, the customer was processing a challenging family of parts on a system that involved nearly 20 fixtures. Each part required multiple holes with varying depths and diameters. A bulky, dedicated machine created an unnecessary expense and bottleneck in their production.
UNISIG provided a machine that allowed the company to manage deep hole drilling of these parts with just two pallet-changeout type fixtures, and requiring only the selection of a new part program. By eliminating fixturing, setup, and programming time, the company experiences significant savings every time the machine runs.
Lighter Yet Stronger
In addition to production benefits, a future opportunity for automotive manufacturers that involves deep hole drilling technology is in making vehicle parts lighter yet still maintaining or even increasing their stiffness and strength. Deep hole drilling can produce thin-wall parts such as axles and power transmission shafts, for example, that provide significantly higher mechanical integrity and better improved energy economy.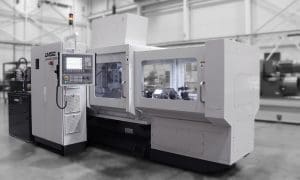 For instance, drilling a 20-mm axial hole through a heavy 30-mm diameter shaft makes the shaft much lighter while maintaining its stiffness. This lighter shaft has less rotational inertia which, in turn, reduces energy consumption. Designers continually search for such small gains in efficiency and will seek ways to enhance lightness and stiffness throughout the automobile.
As machine tool manufacturers, our job is to listen to our customers, understand what they need, and develop those needs into a solution that is viable from a cost and reliability standpoint. With ongoing advancements in engineering technology, machine manufacturing, and service, what might have been very expensive to do only three or four years ago is now viable. Concepts that once seemed a bit far-fetched are now quite common.
Because of that, we design our machines to provide both flexibility and utilization that will enable our customers to successfully face the expected—but not yet fully known—major changes in the automotive manufacturing industry.